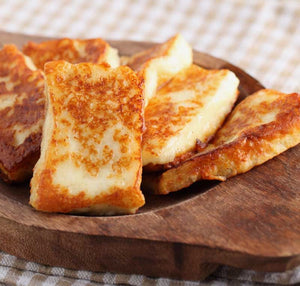 Grilled Halloumi
Grilled halloumi is delicious for vegetarians and meat-lovers alike.
What is Halloumi Cheese?
Halloumi or haloumi is a semi-firm, unripened, brined cheese made from a mixture of goat's and sheep's milk. It originated from the island of Cyprus. This Cypriot cheese doesn't melt, which allows it to be toasted,  making it the perfect star of a sandwich or salad. It's a summer staple that's delicate and refreshing with mint and fresh watermelon, or on a hearty burger. 
Halloumi has a high melting point that makes it great for the grill and perfect for so many light summer meals. You should be able to find it at most well-stocked grocery stores with a good cheese counter. It's incredibly simple to make. The result is a warm, salty, hard cheese which is versatile to use in salads, sandwiches and more. The possibilities are endless.
If you live in apartment and don't have an outdoor grill, you can make grilled halloumi on Cinder indoor grill.
SERVES 4
Ingredients
Aged halloumi can be salty so you may want to soak your halloumi cheese in water for 30 minutes, then pat dry before grilling.
METHOD
Turn your Cinder up to Sear Mode at 450°F.


Slice halloumi into 1/2 inch thick slices that won't fall apart when grilling. If you're using the halloumi to top a burger, you may slice it 1/4 inch thick.


Pat the halloumi slices dry so they get a good crisp when laid on the grill.


Place your halloumi in Cinder, close lid and sear for just 45 seconds. You don't need to add any oil to the surface of Cinder Grill but you can add a small amount of a high smoke point oil such as canola oil for extra crisp.


Halloumi is excellent on its own, in a salad with peaches, on an eggplant flatbread, or in a burger with caramelized onions.
Never Overcook Again
Try this on Cinder Grill Today