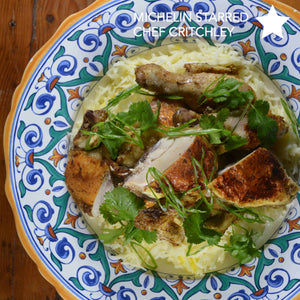 Cornish Game Hens by Michelin Starred Chef John Critchley
Cornish hens make for a fantastic dish on the Cinder Grill. Rubbed with Bzar spice and served with some Basmati rice and fresh herbs, this dish gives has an authentic Emirati flair.
INGREDIENTS:

2 each

Cornish hens, split, backbone removed
For the Dry Brine:

1 Tbsp

Black peppercorn

1 tsp

Cardamom, Green

1 Tbsp

Cumin Seed

1 Tbsp

Coriander Seed

1 Tbsp

Red Chili, Crushed

1 tsp

Cloves, Ground

½ tsp

turmeric powder

1 tsp

Thyme, dried

1 tsp

Cinnamon, ground

½ tsp

Nutmeg, Ground

Olive Oil as needed
METHOD:
Combine the dry spices in a mortar and pestle.  Grind until all the seeds are crushed and mixture is evenly dispersed


Rub the cornish hens with the mixture, wrap with saran wrap and allow to refrigerate for 2-4 hours if you have the time. (if not, allow to rest for at least 15 minutes at room temperature prior to cooking)


Place the hens on the Cinder grill and set it to 167°F, close the lid and start cooking (approximately 75 minutes) Use the app setting for poultry, dark meat falling off the bone.


When temperature has been reached, remove the hens from the Cinder and wipe away the residue for a clean surface.  


Turn the temperature dial to sear.


Rub the hens with olive oil and place on Cinder grill. Close the lid.


Sear for 1.5 to 3 minutes with the skin side down.


Remove from Cinder grill and allow to rest for 10 minutes.


Serve over steamed Basmati rice with fresh herbs.
Never Overcook Again
Try this on Cinder Grill Today