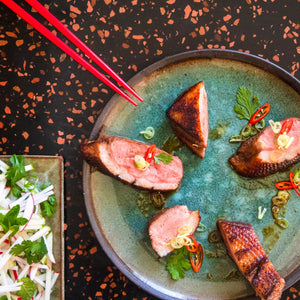 Five-Spice Glazed Duck Breast with Radish and Kohlrabi Slaw

Nothing makes the rich flavor of duck meat sing like five-spice. The aromatic blend of star anise, fennel seeds, sichuan peppercorns, cinnamon, and cloves is a staple of Chinese cuisine that has made lips smack for centuries.
To complement the sweet spiced duck, it's paired here with a tangy, crunchy salad that you can throw together in minutes while Cinder takes care of cooking the meat to perfection. It's a quick and delicious lunch that, with the addition of steamed white rice, could be turned into a hearty dinner for two.
SERVES 2
INGREDIENTS:
FOR THE DUCK
2 duck breasts (~1

½

inch thick)
½ tsp salt
2 tsp five-spice powder
2 tsp runny honey
2 tsp soy sauce
FOR THE SALAD
1 kohlrabi
1 green apple
2 radishes
½ lime
1 tbsp sesame oil
Pinch of salt
¼ cup fresh mint leaves
¼ cup fresh cilantro leaves
TO GARNISH
1 scallion
1 small red chili
Pinch of flaky salt (optional)
METHOD:
Score the skin of the duck breasts diagonally with a sharp knife, taking care not to cut into the breast meat. Season each breast with the salt and five-spice powder. Whisk together the honey and soy sauce and coat the seasoned breasts with the liquid.


Set the grill to your desired temperature (140°F is recommended for medium rare), add the duck breasts, then close to allow the meat to come up to temperature.


While the duck is cooking, prepare the salad. Peel the kohlrabi, core the apple, and trim the tops and tails of the radishes before cutting all into thin matchsticks. Squeeze a quarter of a lime over the mix to prevent the apple from browning, then squeeze the remaining quarter into a small bowl and whisk in the sesame oil and salt.


Once the duck has come up to temperature, remove the breasts from the grill and set the device to sear mode. Return the duck skin side down and leave to sear with the lid open until the skin is dark, crispy, and caramelized.


Place the finished breasts on a cutting board to rest while you complete the salad. Toss the apple, kohlrabi, radish, mint, and cilantro with the lime and sesame oil dressing then pile high on side plates. Thinly slice the scallion and red chili.


Slice each duck breast into ½-inch pieces, place around the plate and top with the sliced scallion, chili, and flaky salt (if using). Serve immediately with the salad alongside.
Note: Your Cinder keeps food warm but don't leave the duck for more than two hours at 133°F.
Never Overcook Again
Try this on Cinder Grill Today