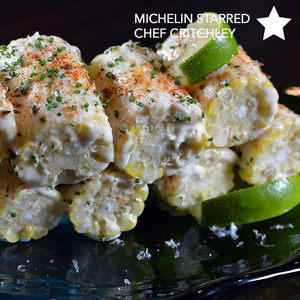 Elote Loco by Michelin Starred Chef John Critchley
This dish takes a humble street food from EL Salvador and turns it into your favorite corn preparation. Play with different hard cheeses from around the world to make your very own unique combination of seasoning, citrus & mayonnaise.
 
 Serves 4-6
Ingredients:

6 each

 ears of 

Corn, cut in half , very fresh

1/2Cup

Mayonnaise

2 each

Garlic cloves, minced

1 each

 L

emon, zested and juiced

1/2 tsp each Salt and Pepper

2 ounces

Aged Sheep's Cheese, finely grated

1/4 tsp

Paprika, Sweet & Smoked

1 each

 L

imes, cut into wedges
METHOD:
Place the corn on the Cinder Grill and set the temperature to 185°F, sprinkle with sea salt.


Prepare the sauce for the corn by mixing mayonnaise, garlic, lemon, salt & pepper in a bowl.


Once the corn has reached temperature (Approximately 30-45 minutes), remove from the Cinder and set aside.


Wipe the Cinder plates clean and turn to sear at 450F.


Once the searing temperature has reached, place the corn back on the grill, close the lid and hit the sear button for 45 seconds.


When searing is complete, lift the lid and gently rotate the corn and close the lid again to sear the remaining sides.


Remove the corn and place in a large bowl.


Mix with the mayonnaise mixture, paprika, and cheese in the bowl.


Squeeze the lime wedges over the corn and mix again.


Place on serving tray and spoon the extra mixture over the top.


Sprinkle more paprika and fresh squeezed lime to finish.
Never Overcook Again
Try this on Cinder Grill Today