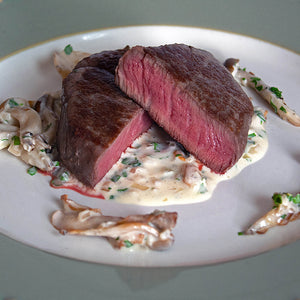 Filet Mignon with Creamy Mushroom Sauce
 Never settle for gray, tough, overdone steak again. This delicious pair of a creamy mushroom sauce and a rare Filet Mignon is perfect for any date night meal. And thanks to Cinder's precision temperature cooking, over- and undercooked steaks are a thing of the past. Get the exact degree of doneness you want, without the hassle of monitoring your steak.
Serves 2-4
INGREDIENTS
FOR THE SAUCE
1 tbsp butter

1 shallot, finely sliced

1 clove garlic, finely grated

½ cup white wine

½ cup cream

Salt and pepper for flavor

4 oz mixed mushrooms

1 tbsp chopped parsley
FOR THE STEAKS
2x filet mignons

Salt and pepper for flavor
METHOD
Heat butter in pan over medium heat and let simmer. 

When melted, add finely sliced shallots and cook for 5 minutes until soft and golden.



Add garlic to shallots mixture and let cook for 2 minutes, stirring occasionally. Then, a

dd white wine to pan and let cook. Reduce heat by half, stirring occasionally.


Add cream to pan slowly,  while still stirring. Season with salt and pepper to taste. Remove from heat and set aside.


Allow Cinder to reach desired heat; 129 °F recommended for rare steak. Season filet mignons with salt and pepper and wait for cooking to be done. Remove from Cinder when notified.


Prepare the device for searing by wiping down the plate and set to sear. Wait for Cinder to reach sear temperature.



Spread oil on plates and s

pread mixed mushrooms on Cinder and sear for 45 seconds. Add mushrooms to sauce, stir, and add in chopped parsley. Set aside.



Sear steaks for 90 seconds, then remove from Cinder. P

late with sauce and enjoy.
Never Overcook Again
Try this on Cinder Grill Today