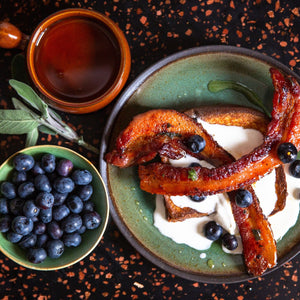 French Toast with Maple Bacon and Cardamom Cream

Cinder is about to take your brunch game to a whole new level. Perfectly fluffy pillows of brioche french toast meet caramelized bacon and gently spiced cream, all topped off with tart blueberries and a good glug of maple syrup.
For a lighter, meat-free take on the dish, try swapping out the cream and bacon for greek yoghurt and a sprinkling of crunchy granola.
Our French Toast Recipe: The Secret to Great French Toast
Our go-to bread for this recipe is brioche. It's decadent, sweet and soft, but still light enough that it won't overwhelm you at brunch.
If you buy it a day ahead, it will become slightly stale and drier making it perfect for soaking up the eggy mixture that makes French Toast so tasty.
Alternatively, you could try Texas toast. It's wonderfully soft and soaks up the egg and milk well. It also doesn't hurt that it looks like a perfect square after cooking it. Challah, baguette and plain bread also make great substitutions in this recipe. 
Eggs and Milk Mixture
Make sure you whip the eggs and milk until their completely combined and light and fluffy. You can add additions to this mixture such as a drop of vanilla extract, a tsp of cinnamon powder for a warm, spicy taste or add sugar.
Serving your French Toast
In this recipe we pair French toast with cardamom cream, bacon, blueberries AND maple syrup. You can serve your French toast with whatever combination of ingredients you love.
Go simple with a light dusting of powdered sugar. Or try honey, greek yoghurt, and fresh berries for a lighter accompaniment. All the toppings in our Buttermilk Pancake recipe go well with French toast or other brunch/dessert items. Try macerated berries and ricotta on yours.  
SERVES 4
Ingredients
FOR THE TOAST
4 1-inch slices of brioche loaf
1 cup milk
4 eggs 
FOR THE BACON
8 slices unsmoked thick-cut bacon
2 tbsp maple syrup
1 tsp ground cardamom
1 tbsp finely chopped fresh sage
TO GARNISH
1 cup cream
1 tsp ground cardamom
1 tbsp powdered sugar
1 cup blueberries
Maple syrup
METHOD
Preset your oven to 350°F.


Place the slices of brioche on a baking tray with raised edges. Whisk the milk and eggs together until smooth then pour the mixture over the brioche. Ensure that both sides of the brioche are coated and leave for around 20 minutes, flipping occasionally, until all the custard has been soaked up by the brioche.


When the brioche is fully saturated, set your Cinder device to 400oF. Once it has come up to temperature, brush both plates with butter and add the brioche slices. Close the device and grill for 90 seconds, or until the brioche is a rich golden brown.


Remove the brioche to a clean baking tray, place the tray in the warm oven, and wipe down the grill plates with a paper towel.


Set the grill to sear mode, add the bacon, and close the lid, cooking for 6-8 minutes until the bacon is crispy and browned (you may need to flip the bacon, depending on how thick it is cut).


While the bacon is cooking, whisk the cream until it makes soft peaks. Stir in the cardamom and powdered sugar then set aside.


Once the bacon is browned, pour over the maple syrup, sprinkle with cardamom, and scatter the chopped sage. Turn off the device and leave the bacon for one minute to caramelize as it cools slightly.


To assemble the dish, remove the french toast from the oven and transfer to individual plates. Top each slice with a large spoonful of cream, two slices of bacon, a scattering of blueberries, and maple syrup to taste. Serve immediately. 
Never Overcook Again
Try this on Cinder Grill Today