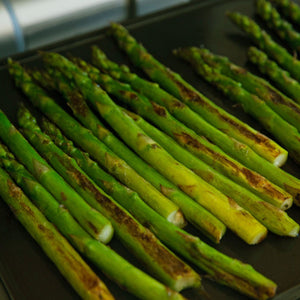 Grilled Asparagus with Hollandaise and Panko Fried Egg


Give asparagus the royal treatment with this delectable dish. With a rich hollandaise sauce and life-hack-status crispy fried egg, you'll want to eat this for breakfast, lunch, and dinner.
SERVES 4 as an appetizer, 2 for breakfast
Ingredients
4 eggs

4 egg yolks

1 stick unsalted butter, melted

1 tbsp lemon juice

1 bunch asparagus

⅓ cup panko breadcrumbs

Canola oil

Salt

Black pepper
METHOD
Begin with the hollandaise. Add the egg yolks and lemon juice to the bowl of a food processor along with a pinch of salt and a crack of black pepper. Blend until light and frothy, then, drop by drop, with the processor still running, add the melted butter. You can stop adding butter once the sauce has thickened somewhat but is still pourable.


Set your Cinder device to 400°F. Toss the asparagus in a little canola oil and season well with salt and pepper. Add the asparagus to the grill and cook for 6-8 minutes, until tender and browned then remove from Cinder.


Then make the crispy eggs. Add a tablespoon of canola oil your Cinder Grill. Once the oil is shimmering, scatter half the panko evenly into the pan (they should immediately begin to sizzle). Crack the eggs directly onto the breadcrumbs then sprinkle with the remaining panko leaving the Cinder open. After about three minutes, once the whites have set, carefully flip each egg and cook for an additional minute.


To serve, place a bundle of asparagus onto each plate, pour over the hollandaise and top with a crispy egg.
Never Overcook Again
Try this on Cinder Grill Today