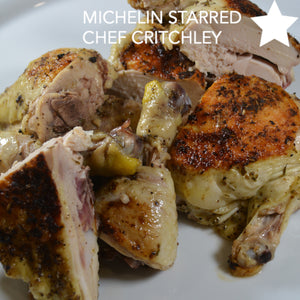 Herb & Garlic Chicken
Simple dry rubbed herb and garlic chicken remains super juicy on the Cinder Grill. Use the App to monitor cooking from a distance for easy multitasking.  Multiply this rub recipe for other chicken and pork dishes.
INGREDIENTS:

1 each

whole chicken, backbone removed
For the Rub:
2 Tbsp.

Sea Salt, Coarse

2 tsp.

Garlic, Dried, minced

2 tsp

Onion, toasted granules

1 tsp.

Rosemary, cut and dried

1 tsp.

Sage, dried, rubbed

1 tsp.

Thyme, dried

2 tsp.

Black pepper, table grind

Olive Oil as needed
METHOD:
Have your butcher remove the backbone of the chicken for you or you can follow the method for Spatchcocked poultry


Lightly brush both sides of the chicken with olive oil


In a small bowl, combine the dried spices and salt


Sprinkle the spice and salt mixture on both sides of the chicken making sure the seasoning is evenly distributed


Placed the chicken, skin side up on the Cinder grill.


Using the Cinder App, set the grill to 158°F


Close the lid and begin cooking (Approximately 115 minutes)


Once the temperature is achieved, lift the lid and gently remove the chicken and place it on a clean plate 


Wipe the Cinder grill clean with a damp towel and pre-heat to sear


Gently brush olive oil on the skin side of the chicken and place, skin side down, on the Cinder grill and close the lid.


Push the red sear button and allow to sear for 90 seconds or until the skin is golden brown and crispy


Remove the chicken from the Cinder and place on a clean cutting board.



Separate the leg and thigh and cut the breast into four pieces and arrange on serving platter.
Never Overcook Again
Try this on Cinder Grill Today