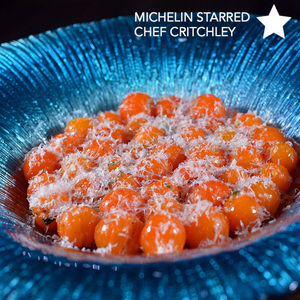 Marinated Sun Gold Tomatoes with Aged Sheep's Cheese
Marinated Sun Gold Tomatoes with Aged Sheep's Cheese by Michelin Starred Chef John Critchley
Tomatoes fresh out of the backyard are the best there is. Our chef has four Sun Gold tomato plants that yield a couple pints a day from the beginning of August hopefully into September. Our chef likes to pick them before the birds swoop in so he continually harvests as they ripen. The ones that make it into the kitchen get a healthy dose of fresh olive oil, herbs and sea salt and then nestle in a parchment bag for slow marinating in the Cinder. When they come out, almost ready to burst with juice, they are finally topped with finely grated aged sheep's cheese.
Family style serves 4
Ingredients:
2 pints

Sun Gold cherry tomatoes

1/4 cup

Fresh olive oil

1 Tbsp

Sherry vinegar

1 tsp

fine sea salt

1 tsp

cracked black pepper

2 tsp

thyme, picked leaves

1/4 pound

Aged Sheep's Cheese, grated using a microplane or fine cheese grater
METHOD:
Wash the tomatoes well and pat dry.


In a mixing bowl, toss the tomatoes with olive oil, vinegar, sea salt, pepper and thyme and place into the parchment bag.


Fold the bag and seal with a clip.


Set Cinder Grill to 155°F and place the parchment bag in the center of the grill. Close the lid and set a timer for 20 minutes.


Remove tomatoes from the Cinder and gently open the parchment bag. Tomatoes should still be intact but warm the whole way through. (if not, set back on the Cinder for 5 more minutes or until warm all the way through but not bursting).


Remove the tomatoes and juice from the bag directly into a serving bowl.


Finely grate the sheep's cheese over the entire dish.
Never Overcook Again
Try this on Cinder Grill Today