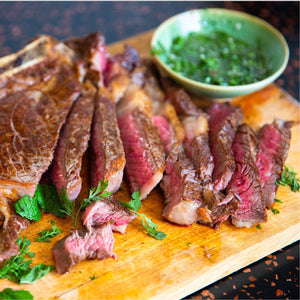 Rib Eye Steak with Roasted Carrots and Chimichurri Sauce

Chimichurri sauce is a spicy, tangy condiment originally from Argentina and Uruguay, where grilled meat is a specialty and simplicity is key. Here, mint adds a little unexpected brightness to the traditional blend of parsley and oregano. With so much flavor and hardly any effort required, this mouthwatering meal is sure to become a weeknight staple and a hit with dinner guests.
Serves 4
Ingredients
1 lb rib eye steak (1 inch thick)
1 tbsp butter, melted
1 bunch carrots
1/2 cup finely chopped parsley
1/4 cup finely chopped oregano
1/3 cup finely chopped mint
1 tbsp red wine vinegar
3 tbsp olive oil
1/4 tsp sugar
2 cloves garlic, finely grated
1 small red chili, finely sliced
Salt
Black pepper
METHOD
Season your steak generously with salt and black pepper. Set your Cinder device to your desired temperature (129°F is recommended for rare) and transfer the steak to the grill.


Meanwhile, set your oven to 450°F. Toss the carrots in a large bowl with a little canola oil and season with salt (depending on the thickness of your carrots, you might choose to roast them whole or split them in half, lengthways). Transfer to a baking tray and roast for 40-50 minutes, until browned and tender.


Once the steak has come up to temperature, remove it from the grill and set your device to sear mode. While you wait for the plates to heat, whisk together the parsley, cilantro, vinegar, olive oil, sugar, garlic, and chili in a small bowl along with a pinch of salt.


Brush the hot plates with plenty of butter and return the steak to the grill, searing until dark brown and caramelized.


To serve, pile thick slices of steak on a large platter, interspersed with the roasted carrots. Drizzle with chimichurri sauce and serve with a green salad and crusty baguette.
Note: Your Cinder keeps food warm but don't leave the steak for more than two hours at its target temperature.
Never Overcook Again
Try this on Cinder Grill Today