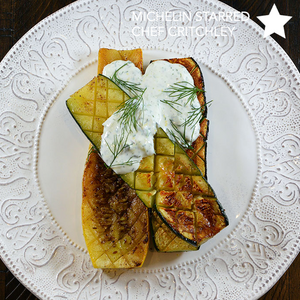 Roasted Summer Squash & Zucchini with Yogurt
Roasted Summer Squash & Zucchini with Yogurt by Michelin Starred Chef John Critchley
Summer squashes and zucchinis cook up beautifully on the Cinder Grill. They also adapt well to a variety of flavors, so feel free to improvise with your favorite spices.
Ingredients:
1 each

Summer squash, cut lengthwise in 1 inch strips

1 each

Zucchini, cut lengthwise in 1 inch strips
FOR THE MARINADE
1/4 cup

extra virgin olive oil

1/2 tsp

sea salt, fine ground

1/2 tsp

chili powder

1/2 tsp

cumin, ground
FOR THE YOGURT
1 cup

yogurt, Greek, Skyr, or other rich and creamy yogurt

1/2 tsp

cumin, ground

1/2 tsp

sea salt, fine ground

1 each

lemon, zested and juiced

3 Tbsp

Dill, lightly chopped
METHOD:
Score the squashes making a checkerboard pattern, only 1/4 inch deep.


In a large bowl(large enough for all the squash as well), combine the ingredients for the marinade.


Add squash to the bowl and toss well.  Let marinate for 10 minutes.


In a separate bowl, combine the yogurt, cumin, salt, lemon and dill and set aside or put into a small serving dish for the squash.


Preheat the Cinder grill to 350°F.


Once pre-heated, arrange the squash on the grill and close the lid.  Set a timer for 8 minutes.


Open the lid after the 8 minutes has passed and inspect the squash (it should be tender and golden brown, if not, return to the grill for another 4 minutes).


Once the squash is golden brown and tender, remove from your Cinder grill and arrange on a serving plate.  


Spoon half of the yogurt mixture onto the squash and reserve the rest for dipping.
Never Overcook Again
Try this on Cinder Grill Today