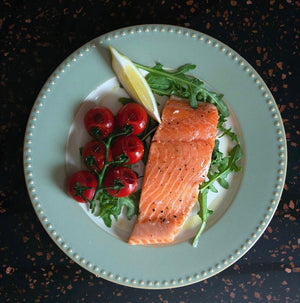 Salmon Fillet with Blistered Tomatoes
The healthiest way to have your salmon is when cooked on the precise and labor-saving Cinder Grill. In this recipe, we show in detail how to cook your ultimate moist yet crispy salmon without worrying about overcooking, whether you like it a little rare or well done.
How to get crispy salmon skin?
 In this recipe we give you the secret to an amazing shiny and crispy salmon skin. Over a certain temperature "Albumin" which is a protein existent on the inside is pushed out of the muscle fibers to form white deposits on the fish. It is often mistaken for fat pools.
This can be avoided by cooking to an ideal internal temperature. Our professional Cinder Chef recommends regulating the desired "doneness" of your salmon fillet using our Cinder app.  The separate searing step turns the skin golden and crisp without overheating the inside. 
We recommend it be cooked to an internal temperature 130 to 135°F. A spritz of lemon juice and some veggies are all you need to enjoy this elegant dish.
Serves 2
INGREDIENTS:
1 lb salmon fillet cut into two equal pieces

12 oz on-vine cherry tomatoes
2 handfuls arugula
Lemon, to serve
Olive oil
Salt
Black pepper
METHOD:
Set your Cinder device to your desired temperature (113°F is recommended for light flakes). Season the salmon with salt and black pepper, then add to the grill.


Once the salmon has come up to temperature, remove from the grill, wipe down the plates, then set your device to sear mode.


Brush the hot plates with oil then add the cherry tomatoes (including vine) and sear for 90 seconds. Wipe down the plates, add more oil, then return the salmon skin-side down to the grill. Sear for 90 seconds with the lid open for crispy skin.


To serve, drizzle two plates with olive oil, scatter with arugula, then add the tomatoes and salmon.
Never Overcook Again
Try this on Cinder Grill Today