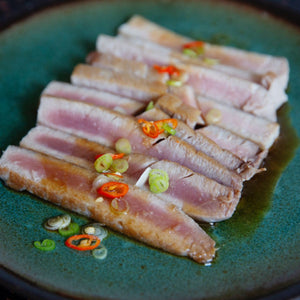 Seared Tuna with Soy Dressing

This Marinated Seared Ahi is one of the most amazing dishes you can make at home! It's bursting with flavor, super easy to make, and fantastic as an appetizer or healthy dinner served with rice or cold noodles.
With tuna of the highest quality (ask your fishmonger for sushi grade) very little is needed to bring out the fish's naturally complex flavor profile. Whisk together a few simple ingredients, sear the tuna with precision only Cinder can offer, and enjoy restaurant-quality food in minutes.

SERVES 2 as an appetizer or light lunch
Ingredients
1 lb sushi-grade tuna (1/2 inch thick)

1 tbsp sesame oil

1 tsp soy sauce

1 tsp rice vinegar

1/4 tsp mirin

1 scallion, thinly sliced

1 small red chili, thinly sliced

Salt

Pepper

METHOD
Whisk together the sesame oil, soy sauce, rice vinegar, and mirin in a small bowl then set aside.


Season the tuna with salt and pepper and set your Cinder device to sear mode. Add the tuna to the grill and sear for 5 seconds (for rare) to 45 seconds (for medium well).


Cut the fish into thin slices and drizzle with the dressing. Sprinkle with scallion and chili to taste, serve immediately.
Never Overcook Again
Try this on Cinder Grill Today