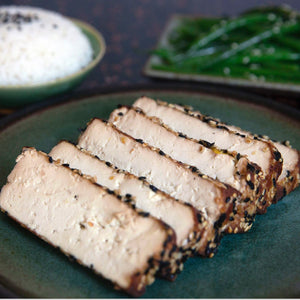 Sesame-Crusted Tofu with Green Bean Salad

If you haven't already, prepare to fall in love with tofu. Soft, creamy, and perfectly seasoned, this is not your average vegan option. An overnight marinade packs the tofu with flavor and the sesame crust adds crunchy texture. Prepare to convert even the most steadfast carnivore with this easy and delicious high-protein tofu dish.
SERVES 4
Ingredients
FOR THE TOFU
1 lb firm tofu (~1 & 1/2 inch thick)
1 orange, juiced
1/4 cup soy sauce
1 tbsp sesame oil
1 tbsp black sesame seeds
1 tbsp white sesame seeds
1 tbsp all purpose flour
FOR THE SALAD
1/2 lb french green beans
1 tsp miso paste
1/4 lime, juiced
1/2 tsp mirin
1 tbsp sesame oil
Salt
METHOD
To prepare the tofu marinade, whisk together the orange juice, soy sauce, and sesame oil. Drain the tofu and gently squeeze with paper towels to remove excess liquid. Place the tofu in a small container (the packaging it came in might work perfectly) and pour over the marinade. If the tofu isn't completely submerged, top up with additional soy sauce or orange juice. Cover and refrigerate for at least 4 hours but preferably overnight.


Once the tofu has had time to marinate, set your Cinder device to 145oF and transfer the tofu to the plates.


While the tofu cooks, prepare the green bean salad. Season a large pot of boiling water with plenty of salt, then add the beans and cook for 4-5 minutes, until just tender. Drain the beans, refresh under cold water then transfer to a serving bowl. Whisk together the miso paste, lime juice, mirin, and sesame oil before pouring over the beans.


When the tofu has come to temperature, remove it from the grill, wipe down the plates, and set your device to sear mode. Sprinkle the sesame seeds and flour over a small plate then dredge the tofu in the mixture, ensuring all sides are coated. Add a little oil to the grill, then return the tofu to the hot plates, searing for 45 seconds on each side.


Slice the tofu into thin strips and serve immediately alongside the beans and steamed white rice.
Never Overcook Again
Try this on Cinder Grill Today