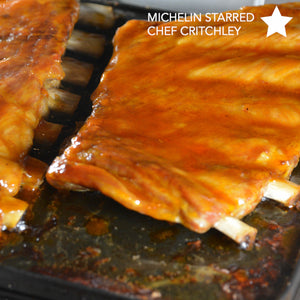 Slow Cooked Country Ribs by Michelin Starred Chef John Critchley
Slow cooking meaty pork ribs is something the Cinder can do very well. We discovered this when we were throwing a party and didn't get around to eating for a extra couple hours, and we found the Cinder kept the ribs at perfect temperature and juiciness.
Serves 2-4
INGREDIENTS:

2 lb 4oz

Pork Ribs, Country style

1 oz

Salt, kosher

1 Tbs

Paprika, sweet smoked

1 tsp

chili powder

1 tsp

onion powder

1 tsp

garlic powder

1 tsp

cumin powder.
For the glaze:
3 Tbs

Franks red hot sauce

¼ cup

honey

1 cup

drippings from the cinder grill

2 Tbs

Butter
METHOD:
Rub the country ribs with the salt and spice mixture and wrap in saran wrap.  Allow to sit for 4-6 hours in the refrigerator or at least 30 minutes at room temperature.


Place the ribs on the cinder grill and close the lid, setting the temperature to 225°F.


Allow the ribs to cook slowly to 190°F internal temperature (approximately 3.5 hours).


After two hours the ribs should have released enough liquid to start your sauce.  Collect the liquid from the drip pan and place in a sauce pot with the other ingredients for the glaze.


Place the sauce pot over a medium heat until it comes to a simmer.  Reduce the heat and allow to simmer slowly and reduce by half.


When the ribs reach 190°F, i like to brush the glaze over them every 15 minutes for the next hour and a half.


Remove the ribs from the Cinder and brush the Cinder clean.


Turn the Cinder up to sear and close the lid.


Brush the ribs with more glaze and put back on the Cinder for 1 minutes.


Remove the lid and brush more glaze on the ribs and place on a serving tray.


Allow ribs to rest for 10 minutes before cutting and serving.
Never Overcook Again
Try this on Cinder Grill Today