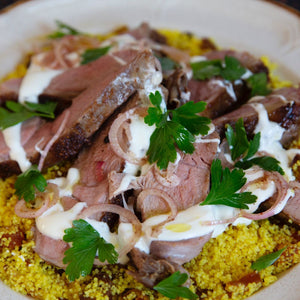 Spiced Lamb Leg with Jeweled Couscous and Pickled Shallot
This dish makes for the ultimate feast to feed a crowd. Fragrant spices meet your choice of dried fruit (dates, apricots, and currants work particularly well) to create a harmonious balance of sweet and savory that characterizes Middle Eastern cuisine. Let Cinder take care of cooking the lamb to perfection while you focus on entertaining your dinner guests.
SERVES 6-8
Ingredients
FOR THE LAMB
1 boneless leg of lamb (~2 1/2 inch thick)
2 tbsps ground cumin
1 tbsp ground coriander
1 tsp cinnamon
1 thumb-sized piece of ginger, peeled
5 cloves garlic, peeled
2 small red chilis
1 tsp brown sugar
1 orange, zested
¼ cup
Salt
Black pepper
FOR THE COUSCOUS
3 cups couscous
1 tsp turmeric
1 cup dried fruit, roughly chopped
½ lemon, juiced and zested
¼ cup olive oil
1 tbsp salt
FOR THE PICKLES
1 shallot, thinly sliced
1½ tsps red wine vinegar
1 tbsp olive oil
1 tsp sumac
Pinch of sugar
Pinch of salt
TO GARNISH
¼ cup yoghurt
2 tbsps fresh parsley leaves
METHOD
Begin with the lamb. If it has been trussed, remove any string and lay the leg flat on a chopping board. Season well with salt and pepper, then add the remaining ingredients to the bowl of a food processor. Blend until a smooth paste is formed (you may need to add a little extra olive oil or water) then scrape out and rub all over the leg. The lamb will be most delicious if covered and left in the fridge to marinate overnight, but can be cooked immediately, too.


Set your Cinder device to your desired temperature (133oF is recommended for medium rare) then add the lamb leg.


While the lamb is cooking, mix together the pickled shallot ingredients in a small bowl, ensuring that the shallots are fully coated. Let stand at room temperature.


10 minutes before the lamb is cooked, stir together the couscous ingredients in a large bowl and pour over enough boiling water to just barely cover. Cover with a plate or foil and set aside.


Once the lamb has come to temperature, remove it from the grill, wipe down the plates, and set your device to sear mode. Sear for at least 90 seconds, until a dark brown crust forms.


To serve, fluff the couscous with a fork and spread out on a large platter. Arrange large slices of the lamb leg and top with globs of yoghurt, a sprinkling of pickled shallot, and a scattering of parsley leaves.
Never Overcook Again
Try this on Cinder Grill Today