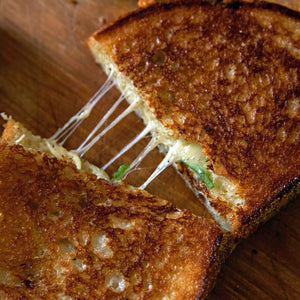 Ultimate Grilled Cheese with Bacon and Avocado
Burnt edges and unmelted cheese are a thing of the past. Cinder (and one secret ingredient) will guarantee perfectly crisp, decadently gooey grilled cheese sandwiches every time. Switch out the bacon for caramelized onions for a veggie version of this all-time favorite.
SERVES 2
INGREDIENTS:
4 slices sourdough bread
3 tbsp mayonnaise
3 oz gruyere cheese, grated
3 oz sharp cheddar cheese, grated
2 scallions, thinly sliced
4 slices thick cut bacon
1 avocado, thinly sliced
Black pepper
METHOD:
Mix together the gruyere, cheddar, and scallions in a bowl with a generous crack of fresh black pepper. Spread one side of each slice of bread with mayonnaise (this will help make a perfectly brown outer crust with no burning). Flip the slices over and add the cheese mixture to the unspread sides, making two sandwiches. Set your Cinder device to 145°F and add the sandwiches to the grill.


Once the sandwiches have come to temperature, remove them from the grill, and wipe down the plates.


Set the Cinder Grill to 350 degrees and fry the bacon on both sides until crisp. Wipe down the bacon grease from the plates using a towel. Let the Cinder cool down before wiping or use oven gloves.                                                 
Turn the Cinder back to Sear mode, add the bacon and avocado slices to the sandwiches, then return to the hot plates and sear for 45 seconds per side, until crisp.
Never Overcook Again
Try this on Cinder Grill Today