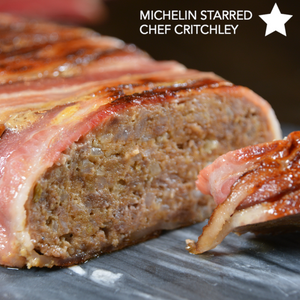 Wagyu Beef, Heritage Pork & Applewood Bacon Meatloaf
Wagyu Beef, Heritage Pork, Applewood Bacon Meatloaf by Michelin Starred Chef John Critchley
Meatloaf has never been better than when made of delicious ingredients such as Wagyu Beef, Heritage Pork, and Applewood bacon, then cooked to precision on a Cinder Grill. Our Chef recommends adding ground pork to the meatloaf as it enhances the flavor and texture, while wrapping it in bacon protects the meat from drying out. (For those "carb-mindful" folks, you may substitute 1 cup of Panko with 1 cup of mashed sweet potato)  
Serves 4-6
Ingredients:
16 ounces

Wagyu Beef, Ground

16 ounces

Heritage Pork, Ground (Can substitute Italian sausage)

2 each

Eggs, farm fresh

1 each

Onion, Minced

3 TBSP

Hoisin Sauce (Or your favorite thick condiment)

3 TBSP

Ketchup

1 Cup

Panko (Japanese bread crumbs)

1 TBSP

Ginger, Fresh, Minced

Salt and pepper to taste

16 ounces

Bacon, Applewood, Thick cut
METHOD:
Combine beef, pork, egg, onion, hoisin, ketchup, panko, and ginger in a large bowl and season with salt and pepper.


Mix thoroughly with hand and let chill for five to ten minutes while you prepare the bacon.


Using two sheets of parchment, lay the strips of bacon side by side on one of the sheets just barely touching.  Cover with the other sheet of parchment.


Gently roll with a rolling pin to flatten the bacon slightly.


Remove the top sheet of parchment and spoon the meatloaf mixture lengthwise in the center of the bacon creating an even rectangle.


Fold the bacon over the meatloaf mixture to seal it leaving the seal on the top.


Preheat your Cinder grill to 225°F.


Cut your meatloaf into two pieces with a sharp knife in order to fit on the Cinder grill.


Flip the meatloaf onto the cinder grill, seam side down, and gently close the lid.


Set a timer for 20 minutes.


Once the 20 minutes is completed, check the internal temperature of the meatloaf with a probe thermometer (you should be above 145°F, if not, close the lid and allow another 5 minutes of cooking).


Once temperature has reached, gently scrape off the extra juice and fat  without removing the meatloaf, raise the temperature to 325°F on the cinder grill.


Set a timer for 8 minutes.


Once the 8 minutes is completed, gently remove the lid and inspect the loaf.  It should be golden brown and the bacon will be slightly crispy.


Remove the meatloaf and allow it to rest for 5-7 minutes before slicing.
Never Overcook Again
Try this on Cinder Grill Today