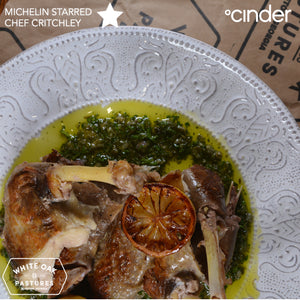 White Oak Pastures Guinea Hen by Michelin Star Chef Critchley
Guinea Hen makes for an exciting change of pace. This game bird's light poultry flavor is suffused with a 'wild' taste from its free-range diet. The meat, lean and rich in amino acids, benefits from a little extra time over gentle heat to break down the legs' connective tissue. The result: a succulent, savory, untamed meal. All you need are Chef Critchley's perfect recipe and the Cinder Grill's perfect precision. 
2-4 People
1 each

Guinea Hen, backbone removed, split in half

1 tsp

Rosemary, Dried

1 tsp

Oregano, dried

1tsp

Black pepper, ground

2 tsp

Sea Salt, fine

1 each

Lemon, cut in half
For the Caper sauce
¼ cup

Olive oil

2 each

green onion, chopped

2 Tbsp

Capers, chopped

1 each

Jalapeno, remove seeds, chopped

4 sprigs

Parsley, flat leaf, chopped

4 sprigs

Cilantro, chopped

2 Tbs

Sherry Vinegar
METHOD:
Remove guinea hen from the package and rinse with cold water, pat dry with paper towels.


Using kitchen shears, remove the wing tips at the joint and remove backbone.  Cut the breast down the middle so that you have two halves


On the flesh side sprinkle the sea salt, pepper, oregano and rosemary.


Place the hen flesh side up on the cinder grill, close the lid and set the temperature to 175°F.


Chop the onion, capers, jalapeno, parsley, cilantro together on a cutting board then transfer into a small mixing bowl with the sherry vinegar and olive oil.


The hen will come up to temperature within an hour.  Allow it to cook for a full 90 minutes before searing as the Cinder will maintain the 175°F temperature and allow the meat to tenderize and break down the tough connective tissue in the legs.


Remove the hen and allow to rest. Wipe down the grill plates and turn the temperature to sear.


Lightly coat the hen's skin with olive oil and place skin side down on the cinder. Place the two halves of lemon cut side down as well.  Close the lid and sear for 1 minute.


Once the hen is golden brown, remove both the lemons and the hen and allow to rest on a cutting board for 8 minutes.



Cut each half into 4 pieces and place all 8 on top of the caper sauce on a large serving tray.
Never Overcook Again
Try this on Cinder Grill Today