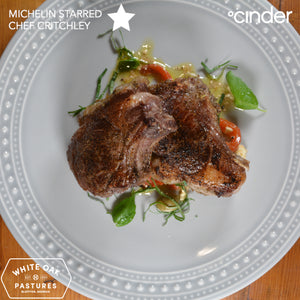 White Oak Pastures Lamb Chop by Michelin Star Chef Critchley
Rich, tender lamb deserves the best recipes that can be found. This recipe, full of Mediterranean flavors, is a delicious winner. Once your lamb has been cooked to perfect doneness on your Cinder Grill, serve it with this salad full of olives, herbs, and tangy Feta, pour a glass of dry red wine, and prepare for your journey. One bite will transport you to breezy seashores beneath blue sunny skies. Enjoy not just a dinner but a vacation with the Cinder Grill.
Serves 2-4
These tender lamb chops with marinated roasted peppers, olives, feta cheese and herbs are a big hit and quick to make
INGREDIENTS:

2 Pkgs

White Oak Pastures lamb chops

2 tsp

Sea Salt, Fine

1 tsp

garlic powder

1 tsp

onion powder

1 tsp

black pepper, ground
For the Mediterranean Salad
¼ cup

olives, pitted

1 each

Roasted red pepper, peeled and cut into strips

¼ cup

Feta Cheese, Crumbled

½ cup

Baby Arugula

2 sprigs

Parsley, chopped

5 each

mint leaves, chiffonade

1 each

lemon, zested and juiced

¼ cup

Olive oil
METHOD:
Combine spices and salt and season the lamb chops.


Set the chops on the Cinder and close the lid.


Set the Cinder to 130°F (approximately 30 minutes).


While the lamb is cooking, combine the ingredients for the salad and set aside (this is OK to do in advance as the flavors can combine better).


Once the lamb is cooked, remove from the Cinder grill to a tray.  Wipe the grill clean and increase heat to sear.


Sear the lamb with the lid closed for 1 minute. Remove lamb and rest on a cutting board for 8 minutes.


Serve with salad and extra virgin olive oil.
Never Overcook Again
Try this on Cinder Grill Today