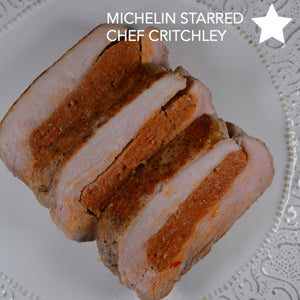 Whole30® - Pork Loin Roast Stuffed with Chorizo
Whole30®- Pork Loin Roast Stuffed with Chorizo
Pederson's Natural Farms no-sugar-added Chorizo gives just the right amount of fat and flavor to the pork loin roast. The Cinder Grill cooks this style of roasts perfectly.
One roast, serves 4
INGREDIENTS:


1/2 pound

Chorizo, no sugar added

1 pound

Pork loin, boneless

1/2 tsp each

salt and pepper

Olive oil as needed
METHOD:
Start by cutting the pork loin down the middle to open it up ('butterflying' is the term for this technique) being careful not to cut the loin into two pieces. Try to stop cutting with about an inch to a half inch of thickness left.


Gently press the loin into one even thickness using a rolling pin or meat tenderizer. 


Cover one half of the meat with 1/2 pound of chorizo and fold the other side over to assemble the roast.


Using butcher twine, tie up the roast carefully from end to end. Be careful to tie snugly but not too tightly. 


Rub the roast with olive oil and salt and pepper generously and put in the Cinder Grill.


Close the lid and turn the Cinder on.


Using the app, set the pork to 145.


Once temperature is reached (approximately 2hrs) remove the roast and wipe the grill plates clean with a damp kitchen towel or paper towel.


Turn the heat up to sear and let the machine come to temperature.


Spray or brush the roast with a little more olive oil to ensure it doesn't stick, place in the Cinder, and close the lid. 


Sear for 1 minute.


Remove from Cinder and let rest for 10-15 minutes loosely covered with aluminum foil.



Slice and serve!
Never Overcook Again
Try this on Cinder Grill Today