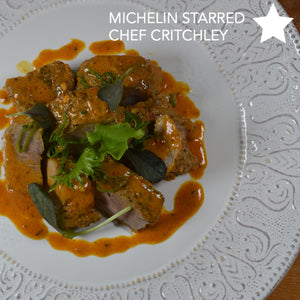 Whole30® - Pederson's Natural Boneless Country Style Pork Ribs
Whole30® - Pederson's Natural Boneless Country Style Pork Ribs
Boneless country style pork ribs actually come from the shoulder blade. These inch-thick strips cook up with a melt-in-the-mouth tenderness. This unsweetened mustard BBQ sauce provides an excellent pop of flavor.  

Serves 2-4 
INGREDIENTS:

1 pound 

Boneless Country Style Pork Ribs

2-4 TBS

Canadian Steak Seasoning (Montreal by McCormick's or other style)
For the BBQ sauce
2 TBS

Yellow Mustard (French's doesn't include sugar)

2 TSP

Paprika (Smoked Spanish is best)

1 TBS

Ghee, or clarified butter (warmed)
METHOD:
Dust the pork ribs with the steak seasoning and let sit for a few minutes while you prepare the BBQ sauce.


For the sauce, combine all three ingredients and reserve in a bowl for use later.


Place pork ribs on the Cinder, close the lid and set to 175°F. They should take approximately 45 minutes to come to temperature.


Once temperature is reached, remove the ribs from the Cinder and place on a sheet of aluminum foil (make sure your piece of foil is wide enough to wrap the ribs up for further cooking).


Measure out 1/4 cup of the juices from the drip tray and mix into the BBQ sauce.


Wipe off the Cinder plates with a damp kitchen towel or paper towels.


Baste the ribs with the BBQ sauce and wrap in foil.


Place the ribs back into the Cinder Grill and close the lid, set temperature for 195°F and let cook for another hour.


Once finished, take the package off the Cinder and let sit for 15 minutes to rest.



Arrange ribs on a plate and drizzle the cooking juices on top.  Garnish with herbs like cilantro, or even bright mustard greens.
Note: Pork is safe to eat at 145°F, but by cooking to 195°F we are able to break down the tough connective tissues in the shoulder allowing for a more tender texture in a very flavorful cut.
Never Overcook Again
Try this on Cinder Grill Today