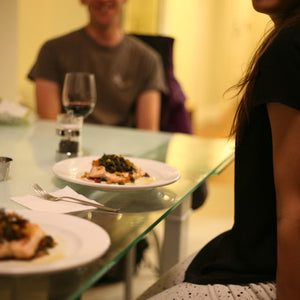 Easy Dinner Planning With Cinder
Scheduling is an often-overlooked aspect of cooking. It takes some planning to get all the dishes on the table at the same time. However, if you don't, the result is a drawn-out and often cold meal. This blog post uses a sample menu to show you how easy dinner planning is with the Cinder Grill. The effortless cooking not only delivers perfect results but makes it that much easier to organize your meals.
Easy Dinner Planning: Steak and Potatoes
For example, let's consider a sample meal of filet mignon, mashed potatoes, and seared green beans.  The mashed potatoes go first. You can make them the usual way, in a pot with milk and butter. On the other hand you can cook peeled, halved potatoes on the Cinder to 200°F, then mash them with hot milk and melted butter. Either way, make the potatoes, smooth the mound, and cover them securely. If desired, use an ovensafe bowl and set them in a 200°F oven to keep warm. Perfect results are on their way!
Effortless Cooking: Different Doneness
Next, cook your filet mignons. Suppose you're serving four, of whom one person likes their meat quite rare -- 129°F. Two like theirs at 134°F and the last enjoys medium well at 150°F.  You can start the steaks together, set to 129°F. When the Cinder reports the target temperature, pull the first steak and tent it with foil, then set the Cinder for the next higher temp and keep going. Effortless cooking of different doneness levels -- what's not to like? To keep track of the different steaks, flag them with different-colored cocktail toothpicks, or arrange them in order on a platter. After all the steaks have come to temperature, tent securely with foil and let them rest.
Perfect Results: Dinner Done Right
While the meat rests, turn the Cinder Grill to 400 and cook the green beans according to our elegant asparagus recipe. Meanwhile, microwave the potatoes, stirring every so often. Pile the beans tightly together and tent them with foil to keep them warm, while you turn the Cinder Grill to sear. Here's where the cocktail skewers show they're worth in keeping track of the different steaks for effortless cooking. However, you can also place them on the Cinder in clockwise order from rare to medium-well. 
Once the steaks are seared your dinner is ready, hot and fresh all at the same time! Consider topping the filet mignons with pre-made caramelized onions, for easy dinner planning down to the sauce. Whether you choose this menu or one of many others, you'll get perfect results every time with the Cinder Grill.