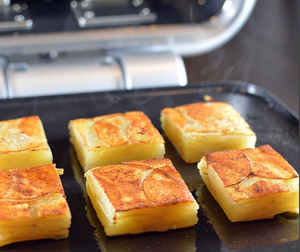 Easy Side Dishes for Thanksgiving
On Thanksgiving the turkey may be the star, but the side dishes make the meal. Nothing says "feast" like a table full of delicious vegetables, buttery potatoes, and hearty fall salads surrounding the main roast.  Of course, even easy side dishes take space and time to prepare. To that end, we've created a selection of easy recipes for the Cinder Grill which can cook quietly and reliably while you prepare others. With the Cinder's help your Thanksgiving table will carry an abundance of delights.
Easy Recipes for Every Category
Side dishes fall into a few different categories, each one bringing its own features to the table.  First of all there are salads, or cold vegetable dishes. Secondly, there are hot green veggies. Thirdly there are root and 'fruit' veggies, which are not greens (even if they are green). Last but by no means least there are hot starches, which divide further into warm bread and potatoes, rice, noodles, etc. Therefore, we've chosen some easy recipes to represent their categories. Each and every of these could deliciously grace a Thanksgiving table, or inspire you to your own creations.
Thanksgiving Jewels: Beet Salad
Our Michelin Starred Chef Critchley created this beautiful beet salad for the Cinder Grill. On the Cinder beets cook up tender, not mushy, and mess-free. Leave them to rest on the Cinder while you take care of your other dishes, and they'll be ready whenever you are. Then you can toss them with the fresh, tasty dressing for a gorgeous side salad bursting with fall flavors and colors. As easy side dishes with stunning presentations go, this salad can't be beat! 
Easy Recipes For Difficult Veggies: Roasted Brussels Sprouts
Brussels sprouts can be the most mercurial of veggies. They can be creamy, sweet, and nutty, or, well, none of those at all. This dish of Roasted Brussels sprouts was designed to be one of our most charmingly easy recipes  The sprouts turn out most, not soggy, and toasted, not acrid. In a word, they're perfect, and one of the best easy side dishes for your Thanksgiving table.
Splendid Yet Easy Side Dishes: Whole Roasted Acorn Squash  
If you'd like the turkey to share the spotlight, or need a vegetarian understudy, look no further than this splendid Whole Roasted Acorn Squash. Winter squashes come into their glory in the fall. Furthermore, they make for easy recipes and stunning dishes. For instance, this dish takes advantage of the central hollow to fill the squash with rich flavors while the Cinder cooks it to a toothsome texture. This reigns among easy side dishes but you may want to elevate this squash to center stage!
Warm Toasty Bread: Flatbreads
In addition to preparing these lovely dishes, the Cinder Grill can make pre-made foods into easy side dishes.  This eggplant and halloumi flatbread recipe includes instructions for warming purchased flatbreads till they taste fresh-baked. The breads, wrapped in foil, can be held on the Cinder at 150F until you're ready to serve. Also, this treatment works well with rolls, if you like. 
The Essential Thanksgiving Side: Potatoes
Potatoes are as integral to Thanksgiving as any dish could be. However, there's always room to change things around a bit. Try the Buttered Potato Galette from the linked recipe. Among easy recipes this one stands out for the contrast between its foolproof prep and gorgeous appearance. To say nothing of its rich taste, perfect for a holiday feast. Among easy side dishes that are also beautiful, this potato galette is a winner.
Thanksgiving should be a celebration for all, including the cook. We hope to help you minimize stress and maximize results. Our easy side dishes and the Cinder Grill are both ready to help you achieve this happy goal!
Never Overcook Again
Try this on Cinder Grill Today