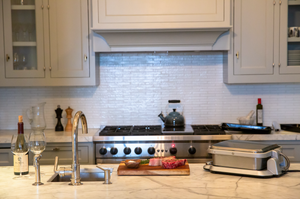 New Chef Partnership Program - Precision Cooking Recipes: Meet Chef John Critchley
Welcome to 
Cinder's Chef Partnership Program! Decorated Chefs will develop high-end recipes designed
exclusively
for Cinder. Our Chefs design delicious recipes for precise cooking.
The recipes make full use of Cinder's unique sous vide style cooking, and indoor grilling capabilities
.
Cinder may look like your average indoor countertop grill, but its one degree precision and super-hot 450 F sear make it perfect for many gastronomic cooking methods
. It's known as the perfect steak cooker for good reason.
Chef John Critchley is the founding member of the Chef Partnership Program.
Under Chef John's culinary leadership, the award-winning Siren Restaurant received its Michelin star in 2017
.  Chef John's new recipes
are released
weekly on our
website
and our all-new
Cinder Android App
.
These recipes will
eventually
become a paid subscription.
You can
buy your Cinder now
to lock in a free lifetime subscription to sous vide and grill recipes made by Michelin Starred Chef John Critchley and others
. 
We sat down with Chef John to learn more about his background and upcoming work with Cinder Grill. Read the interview below.
When did you discover you wanted to be a chef? 
I started working in a kitchen at 14. Before I knew it I was butchering meats and seafood and setting up stations all before my senior year of high school. I was fortunate to work with a small, dedicated team that worked hard, laughed, and mentored me along the way. 
How did you get to where you are now? 
For the first 15 years of cooking, I sought out the best places to work based on what I wanted to learn. The kitchens I worked in were small, hot, and demanding. With my last restaurant opening, Siren by RW, I partnered with two amazing chefs (Robert Weidmaier and Brian McBride) to create a Michelin starred restaurant.  
Once the dust settled from the opening year, I decided to focus inward on developing products that could reach millions of people that don't dine in my restaurants. I am now Head chef at Chew.
Let's talk about Cinder, what was your first impression?  
It's sleek, modern, and heavy. It doesn't feel cheap or not up to the task of daily cooking.
What's your favorite thing to cook on Cinder now that you've been using it for a while?  
A whole chicken, spatchcocked, is a masterpiece on the Cinder. Since you are cooking in a sous vide environment during the first period, the Chicken comes out incredibly moist. Finally with Cinder's uniform heating you are able to achieve a beautiful and even crisp when searing at the end.
What's your favorite thing to cook (not on cinder)? 
I am an open fire fanatic, most of my restaurants in recent years have had wood burning elements and at home I mostly cook outside, slowly and deliberately.
After your first cook, what did you think? 
My first cook was pancakes for my wife and son, the even cooking and quick heating made me smile (Editor's note check out our Japanese fluffy pancakes recipes made easy on Cinder)
How does Cinder compare to other appliances in the kitchen?
It's bigger than most so it needs a dedicated space but it's sous vide and grilling capabilities make it worthy of that space.
Cinder food vs Michelin Star food, what do you think?
A lot of talented chefs make Michelin Star Food without being noticed.  To me, consistency is the single most important thing to control in cooking and Cinder does just that. Cinder grill's precise temperature control which cooks your food to within 1 degree of its set temperature works marvels.
For a behind the scenes look of Chef John's precision cooking recipes, be sure to follow him on Instagram.
Never Overcook Again
Try this on Cinder Grill Today