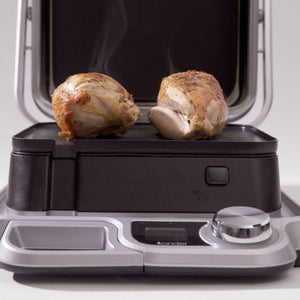 The Whole30® Diet & The Cinder Grill
The Whole30® Diet is a program of controlled eating for 30 days.  It re-sets your metabolism and defuses food cravings. The list of permitted foods may seem short. Only meat, seafood, eggs, fruits, vegetables, healthy fats, and spices and seasonings make the cut. Ready to help, the Cinder Grill perfectly prepares every dish. By doing so, it maximizes the Whole30® Diet's potential. Also, our Recipes page provides many Whole30® recipes. 
Excellence In Every Bite
Simple, high-protein meats and unprocessed vegetables and fruits make up the Whole30® Diet.  These ingredients, especially the proteins, are very temperature-sensitive. However, the invaluable Cinder Grill prevents overcooking. No diet is sustainable if you don't enjoy what you're eating. The Cinder Grill's single-degree precision ensures that you enjoy every bite of your perfectly cooked food. 
Enjoy Enhanced Natural Flavors
The Whole30® Diet rules out many condiments. Ketchup, barbecue sauce, and others are not allowed due to their sugar content.  That sugar enhances both flavor and texture.  However, the Cinder Grill makes sure no such frills are necessary.  Its enclosed sous vide method preserves the food's texture and intensifies its natural flavor.  Also, our list of Whole30® recipes provides delicious variety.  The Whole30® Diet introduces you to what your food actually tastes like. The Cinder Grill brings that flavor and texture to the fullest.
Explore Your Whole30® Recipes
By exploring what you have, you won't miss what you're not having.  The Cinder Grill helps you do so in many ways.  For example, grilling fruit is an uncommon method of lifting its natural flavor without sugar.  Enriching coffee with ghee can counteract its acidity and irritant effects. The sugar and cream will soon be forgotten.  Searing high-quality fish until crisply browned on the outside while cool and tender inside creates a restaurant-quality meal. Try pairing the fish with a crisp salad. You can easily and perfectly prepare all of these (except the coffee) on the Cinder Grill.
Many of our Cinder Grill recipes are easily used as Whole30® recipes. Some to try include Roasted Brussels Sprouts, Leg of Lamb, and Pork Chops with Plum Relish. However, feel free to explore our full listing.  The Whole30® Diet requires a bit of commitment and a solid thirty days. The Cinder Grill ensures success with consistently delicious, perfectly cooked food.
Never Overcook Again
Try this on Cinder Grill Today