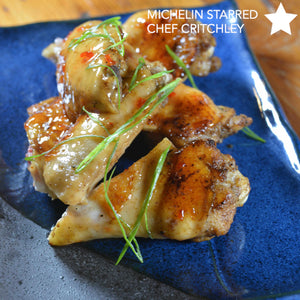 Chicken Wings by Michelin Starred Chef John Critchley
Using the Cinder Grill here is a fantastic way to ensure plump, juicy chicken wings.  
Serves 4-6
INGREDIENTS:

3 pounds

 

Chicken Wings, tips clipped, not separated

1 tsp

Cumin, ground

1 tsp

sea salt, fine ground

1 tsp

paprika, sweet smoked

1 tsp

black pepper, ground
For the Glaze:
1 Tbs

Garlic, minced

1 Tbs

Red Chili Flakes

1/2 cup

Honey

1/2 cup

water

1/4 cup

Rice wine vinegar
METHOD:
Season the wings with the sea salt, cumin, paprika, and black pepper and let sit for 15 minutes.


Place wings on a cinder grill and set to 167°F.  Close the lid and allow to cook to temperature (using the App works well here.


While the wings are cooking, create the sweet and sour glaze.  In a small saucepan combine all the ingredients, bring to a boil, and simmer until slightly thickened, about 5 minutes.


Once the wings have reached temperature, remove from the Cinder and allow to rest.


Remove and empty the Cinder drip pan.


Gently clean the griddle plates and set your Cinder to sear.


Once the Cinder has come to sear, place the chicken wings in it, close the lid, and sear for 1-2 minutes, until brown and crisp.
                             
Using tongs, remove the wings to a large bowl and toss with half the sweet and sour sauce to coat. Serve immediately with the rest of the sauce in a small bowl for dipping, and plenty of napkins!
Never Overcook Again
Try this on Cinder Grill Today