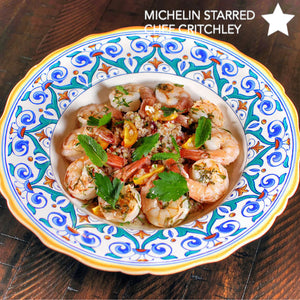 Garlicky Shrimp and Bulgur Wheat Salad by Michelin Starred Chef John Critchley
Garlicky Shrimp and Bulgur Wheat Salad by Michelin Starred Chef John Critchley
Shrimp cook very fast, but never as evenly as this. Cook your shrimp in 4 minutes with the Cinder Grill set to 225°F. Perfectly cooked shrimp, not rubbery or mealy. Serve with this refreshing protein packed bulgur wheat salad. 
 Serves 4
Ingredients:

1# Shrimp, Large 21-25 or larger, peeled, deveined

FOR THE SHRIMP MARINADE
3 

Garlic, cloves, microplaned (or minced)

1 tsp

Red Pepper Flakes

2 tsp

Sea Salt

1 ea 

Lemon, Juiced

2 TB

Parsley, Chopped

1/4 cup

Olive Oil
FOR THE BULGUR WHEAT
1 &1/2 cups

Bulgur Wheat, Dry

3 cups

Water

2 ea

Lemons, Juiced

1/2 cup

Olive oil, Extra Virgin

1 ea

Cucumber, peeled, diced

1/2 ea

Red Bell Pepper, diced

1/2 ea

Red Onion, diced

1 cup

Sun Gold Grape Tomatoes, ¼ rd

1/2 bunch

Parsley, chopped

3 TB

Mint, Chopped

Salt and Pepper to taste
METHOD:
To cook the bulgur
Combine the bulgur and water in a sauce pot and simmer for 15 minutes, covered over low heat.  Drain any excess water and place in mixing bowl to cool.
For the Salad
Combine the cooked bulgur wheat with the ingredients below in a bowl and let sit for up to an hour, or refrigerated overnight.
For the Shrimp
Marinate Shrimp in a bowl for at least 10 minutes and up to an hour prior to cooking.


Set Cinder grill to 225°F and close lid.


While shrimp is marinating, cook the bulgur wheat and prepare the remaining ingredients for the salad.


Once the salad is complete and marinating, you are ready to cook the shrimp. (note: the shrimp cook very fast so be sure your diners are ready to eat, so you can immediately plate the shrimp over the bulgur salad).


Arrange shrimp on the Cinder grill giving them space in between, be careful not to overload the machine as the shrimp will not cook evenly. Close the lid and set the timer for 4 minutes.


When 4 minutes are up, open the Cinder and remove the shrimp, arranging them on top of the bulgur salad and serve. 
Brining Shrimp in a 3% salt solution for 10 minutes before marinating insures juicy shrimp and a pleasant snappy texture.
Never Overcook Again
Try this on Cinder Grill Today