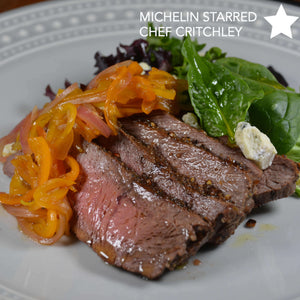 Grass-Fed Beef Shoulder Steak
Grass-Fed Beef Shoulder Steak by Michelin Starred Chef John Critchley
Grass-fed Beef has a natural chew to it that you will enjoy. It doesn't melt away like the falsely fattened steerss used in other commodity meats. Thus, the need to cook it properly, with very little margin for error.  Call in the Cinder Grill!
Serves 2-4
INGREDIENTS:

1 Tbsp

Sea Salt, Coarse

1 Tbsp

Onion, Powder

1 tsp

Garlic, Powder

1 Tbsp

Peppercorn, Black

1 tsp

Thyme, Dried

2 Tbsp

Olive Oil

1 Tbsp

Butter
METHOD:
Trim the Beef shoulder to remove any fat or sinew and place on a seasoning tray.


Combine the sea salt, onion powder, garlic powder, black peppercorn and dried thyme in a mortar and pestle and crush until the black peppercorns are all cracked and ingredients are thoroughly mixed.


Rub the shoulder with the seasoning and then sprinkle with olive oil.


While your steak is coming up to temperature, pre-heat your cinder grill to sear and close the lid.


Once the unit is at searing temperature place the steak onto the cinder grill and close the lid.


Allow to sear for 2 minutes without checking the steak.


Turn the cinder grill to 125°F and set a timer for 5 minutes.


After five minutes are up, lift the lid and add the butter to the steak, close the lid and continue to cook for 3 minutes.


Remove the steak from the Cinder and allow to rest for 8 minutes on a butcher block prior to slicing thin, against the grain.
(note: based on the average thickness of 1.5 inches this should yield you a medium rare tender shoulder steak.  Always double check with a probe thermometer for accuracy in the thickest part of the steak)
Never Overcook Again
Try this on Cinder Grill Today