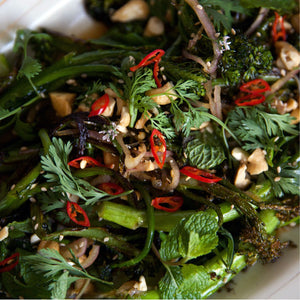 Grilled Broccolini with Cashew-Miso Dressing

This is not your average broccoli dish. With tender stems, crispy ends, and a killer dressing, this spectacular side comes together in minutes but is bound to steal the show at your next potluck.
Equal parts tangy, umami, and fresh, the dressing will make any vegetable sing: to switch things up try swapping out the broccolini for brussels sprouts, swiss chard, or string beans.
SERVES 4-6 as a side
Ingredients
2 bunches broccolini
2 tbsp canola oil
1/3 cup fresh cilantro leaves
1/3 cup fresh mint leaves
1/3 cup roasted cashews, chopped
1 shallot, peeled
1 small red chili
2 tbsp sesame oil
1/2 lime, juiced
2 tsp miso paste
Salt
METHOD
Begin with the dressing. Whisk together the miso paste, sesame oil, and lime juice in a large bowl. Thinly slice the shallot and chili, stir into the dressing, and let stand.


Set your Cinder device to 400°F. If any of the broccolini stems are particularly thick, slice them in half lengthways.


Toss them in a bowl with the canola oil and a good pinch of salt then cook on the grill in batches for 6-8 minutes, until the stems are tender and the ends are browned and crispy.


Add the cooked broccolini to the dressing and toss to coat. When you are ready to serve, transfer to a platter and sprinkle over the fresh herbs and chopped nuts.
Never Overcook Again
Try this on Cinder Grill Today