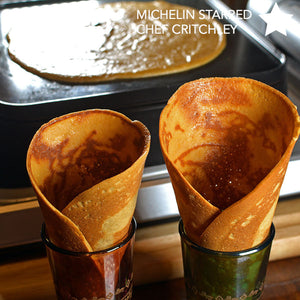 Muscovado Sugar & Orange Zest Ice Cream Cones
Muscovado Sugar & Orange Zest Ice Cream Cones by Michelin Starred Chef John Critchley
Ice cream cones won't be challenging with the Cinder Grill. Using the Cinder as a griddle, you'll be able to cook the dough and shape it while it cools, and the even heat from edge to edge makes sure you have a crispy cone.
Serves 6
1 dozen ice cream cones
Ingredients

1/2 cup

 s

ugar, muscovado 

1/2 cup

sugar, granulated

2 each

eggs, beaten

1 pinch

sea salt, fine ground

1/2 cup

milk

1/4 cup

butter, melted

1 Tbs

Vanilla, bourbon, extract

1 Cup

flour, all purpose

1 each

Orange, Zested
METHOD
Preheat Cinder grill to 350°F


Combine all ingredients in a medium mixing bowl with whisk and let stand for 10 minutes


Lightly butter the cinder grill prior to the first ice cream cone


In quarter-cup batches, one at a time, pour onto the cinder grill and spread evenly into a large circle as thin as you can


Let cook for 2 minutes then flip, leaving the top cover open to allow for evaporation


Allow to cook for 2 more minutes then remove from cinder and shape into a cone shape using a small juice glass


Allow the cones to cool and they will harden
Never Overcook Again
Get a FREE lifetime subscription to premium recipes like this from our Chef Partnership Program.