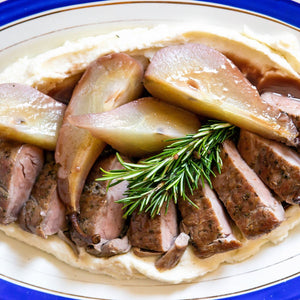 Pork Tenderloin with Spiked Mash and Savory Poached Pear

Poaching pears in wine is a technique typically reserved for dessert, but this savory version provides both a fruity accompaniment for the pork and a delicious red wine jus. If you want to get a head start on cooking, you can poach the pear a day in advance and refrigerate in the juices overnight. This simple recipe will create knockout juicy pork tenderloin.
SERVES 4
Ingredients
FOR THE PORK
2 lbs pork tenderloin (~2 inch thick)
2 sprigs rosemary, leaves finely chopped
Salt
Pepper
FOR THE POTATOES
2 Idaho potatoes
2 russet potatoes
2 cloves garlic, peeled
1 cup cream
1/2 stick butter
2 tbsp dijon mustard
Salt
Pepper
FOR THE PEAR
1 bosc pear, peeled
1&1/2 cups red wine
1&1/2 cups low sodium veal or chicken broth
1 shallot, thinly sliced
1 bay leaf
2 tbsp butter
Salt
Pepper
METHOD
Begin with the poached pear. Set a small pot (just large enough for your pear) over a medium heat and add one tablespoon of butter. Once the butter is foaming, add the sliced shallot and cook until completely soft and starting to brown, about 8 minutes. Add the red wine, broth, bay leaf, and pear then increase the heat to bring to a boil (if the pear isn't completely submerged, top up with extra broth or water). Once the sauce is bubbling, lower the temperature again and simmer for 30 minutes, until the pear is tender.


While the pear is cooking, prepare the pork. Season the tenderloin with salt, pepper, and the chopped rosemary leaves. Set your Cinder device to your desired temperature (140F is recommended for medium) and add the pork to the grill.


Next season a large pot of cold with plenty of salt. Peel the potatoes and chop into half-inch pieces, then add to the pot along with the garlic. Bring the water to a boil, then reduce to a simmer, cooking for around 20 minutes.


At this point, both the pear and the potatoes should be tender. Strain both, making sure to reserve the red wine cooking liquid from the pear (discard the shallots and the bay leaf). Return the potatoes to their pan and mash, along with the cream, butter, and dijon mustard. Return the red wine sauce to a small pan and cook over a high heat until reduced by two thirds and thickened. Whisk in the remaining tablespoon of butter to finish. Season the potatoes and the sauce to taste with salt and pepper.


Once the pork has come to temperature, remove it from the grill, wipe down the plates, and set your device to sear mode. Sear for 90 seconds, rotating once to ensure an even brown exterior.


To serve, cut the tenderloin into thick slices and divide the pear into quarters length-ways. Spoon the mashed potatoes onto individual plates, top with slices of pork and pear, then pour over the red wine jus.
Never Overcook Again
Try this on Cinder Grill Today