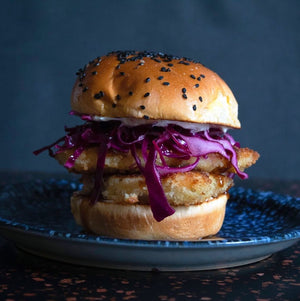 Sesame Chicken Katsu Buns
Chicken Katsu buns with Pickled Red Cabbage
Want to upgrade your hot sandwiches Look at this beauty! Delicious chicken katsu buns are simple to make and will satisfy any epic fast food burger craving. Here's our secret to a delightfully crispy breaded chicken crust, accompanied by some refreshing pickled red cabbage.
Cook your full meal on one instrument, and you'll have your dinner guests coming back for more, guaranteed!
Serves 4
Ingredients:
FOR THE CHICKEN
4 chicken cutlets

2 eggs, whisked
½ cup flour
1 cup panko breadcrumbs
Salt
Pepper
 FOR THE CABBAGE
¼ red cabbage, shredded or grated

1 tbsp rice vinegar
1 tbsp sesame oil
½ tsp mirin
TO SERVE
4 sesame buns

½ cup katsu sauce
¼ cup mayonnaise (optional)
METHOD:
Combine the cabbage ingredients in a bowl with a pinch of salt and toss well to coat. Cover and refrigerate while you prepare the rest of the dish.


Season the chicken cutlets with salt and pepper. Set your Cinder device to your desired temperature (147°F is recommended for juicy and tender chicken) and add the cutlets to the grill. 


Once the chicken has reached its target temperature, remove from the grill and wipe down the plates. Set out three bowls: one filled with flour, the next filled with egg, and the last filled with panko. Coat each cutlet sequentially in flour, then egg, then breadcrumbs.


When all the chicken has been breaded, set your device to sear mode. Add plenty of canola oil to the hot grill plate and add the breaded chicken, searing for 90 seconds on both sides.


Once the chicken is crispy and browned, wipe down the plates and add the buns, cut side down and sear for 45 seconds to toast.


To assemble the dish, spread both sides of each bun with mayonnaise (if using), add the cutlet, spoon over the katsu sauce, and top with pickled cabbage.
Never Overcook Again
Try this on Cinder Grill Today