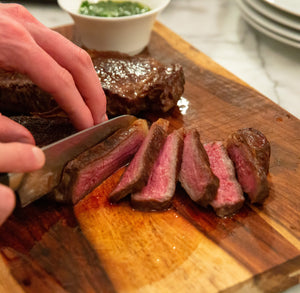 Frequently Asked Questions Part 1: Cooking on the Cinder Grill
The Cinder Grill is very easy to understand and use. Still, more information is better than less. So, we've put some answers to frequently asked questions in a convenient location for you! Here's an overview of the world's first smart indoor grill.
We've divided the FAQ into four sections. This one is Cooking on the Cinder Grill. The others are  Operating the Cinder Grill, Product Information, and Purchasing & Shipping. 
Q: How does the Cinder Grill Cook?
The Cinder Grill has both top and bottom grill plates. You can use it by closing the lid like an indoor grill or panini press, or open like a griddle. This lets you grill, broil, pan-fry, sauté, roast, sear, toast, warm, temper and defrost. However, the Cinder Grill is not ideal for baking, boiling or simmering liquid. You can also wrap food in parchment paper to steam.
Q: How does the Cinder Grill sous vide? How does this differ from traditional sous vide?
Sous vide is a modern cooking technique chefs use for precise temperature control. The traditional method uses the large thermal mass of a water bath. However, the Cinder does so without using a drop of water and in an approachable and familiar indoor grill. Using Temp-Sense, our proprietary algorithm, it's able to keep the temperature precise without the need for an awkward water bath. Furthermore, while sous-vide can only get as hot as boiling water (212°F), Cinder offers the versatility of quickly reaching 450°F to sear your foods deliciously.
Q: Can I cook from frozen on the Cinder Grill?
Yes. This indoor grill constantly tracks food's temperature. The Cinder defrosts your food at a low temperature until it reaches 32°F. Then it begins cooking like normal.
Q: Can I cook multiple foods at once?
If every item needs the same final temperature, yes, you can absolutely cook them at the same time. Because Cinder holds food at the target temperature for up to two hours, even foods that take varying times can be cooked together — nothing will overcook or dry out while you wait for the rest to finish.
If the foods require different final temperatures, cook to the lowest temperature food, remove it, adjust the temperature, and continue cooking the rest.
Q: How does the Cinder Grill app know when my food is ready?
Cinder measures the food's thickness based on the top grill's displacement when closed. Then the app takes your food type and target doneness into consideration while monitoring the internal temperature.  The estimates we provide when your cook starts are simply estimates, which will get better with time. One of the best features of this indoor grill is that it doesn't cook based on a timer, but rather on real-time data from your food.
Q: How long can I leave my food on Cinder Grill after it has reached target temperature?
Most foods, including beef, chicken and fish, can hold for around 2 hours with no loss in quality. If the target temperature is between 40F and 140F, make sure it isn't on the Cinder for more than 2 hours.
Q: What foods can I cook on the Cinder Grill?
Anything you could put in a frying pan, grill, griddle, or shallow stovetop pan, you can put in your Cinder and have it perfectly cooked. Proteins from duck breast to seared scallops, vegetables from sauteed apples to caramelized onions, and even griddled cakes such as crepes and pancakes all work well. 
We hope this FAQ answers the majority of your questions. Remember, the other sections are Operating the Cinder Grill, Product Information, and Purchasing & Shipping.   More information can also be found on our Solutions Page and our Support Page.  And you can always email us at help@cindergrill.com . We'll be glad to help. Enjoy your Cinder Grill, the world's first smart indoor grill!
Never Overcook Again
Try this on Cinder Grill Today