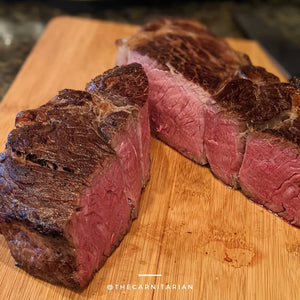 This year everything's a bit smaller and more cozy, a little tucked in.  For instance, our gatherings are smaller, for sensible reasons. However, just because Christmas dinner is a little smaller doesn't mean it needs to be any less festive.  How about steaks for Christmas dinner? The same beefy deliciousness as the big holiday roast, in a slightly more manageable and individual package. They'll feel like gifts for your guests, and will definitely be gifts for the cook when you make them on the Cinder Grill
Trimming Down Christmas Dinner
In years past, cooks prided themselves on the huge spread they could lay out for Christmas dinner, as edible gifts for those they love. However, this year we need to restrict our guest lists for safety and good sense, which leads to smaller menus for the holiday feast. Therefore, steaks make a good centerpiece for a smaller meal. After all, they can be individualized and prepared to each guest's tastes. 
New traditions, Smaller meal
In order to highlight the steaks, don't get into the weeds with too many side dishes.  We've described how to incorporate side dishes into a holiday meal with our Thanksgiving blog posts. The same principles  apply to Christmas dinner, of course. Also, try unusual twists on staples, such as the buttery potato galette from our Buttered Potatoes With Smoked Salmon, or the fresh and light Roasted Spaghetti Squash. You may find gifts for yourself in new traditions to look forward to every year!
Steaks For Celebration
One of the beauties of steaks, inherently and best expressed on the Cinder Grill, is how they can be brought to individual doneness.  Start all the steaks together, even touching. Then, as each comes to the desired temp, pull it to a warm platter to rest and raise the target temp a little to cook the rest a bit more. When all have reached their targets, wipe the plates down, heat to sear, and sear all the steaks as usual. Your guests will feel as if their dinners are gifts for them personally, while you'll bask in the ease and precision of Cinder cooking. 
Gifts for Cook and Diners alike
Because the Cinder Grill can handle cooking your steaks to perfect doneness, it provides gifts for cook and diners alike. Instead of working at meal prep alone in the kitchen, lonely and busy, you can relax with and enjoy your guests' company while your holiday meal comes together. Also, instead of overdone or bloody slices, each guest has their own perfect and succulent steaks, framed by lovely side dishes. So set your table and pour the red wine. Christmas dinner will be more festive than ever before, with the help of the Cinder Grill!
Never Overcook Again
Try this on Cinder Grill Today