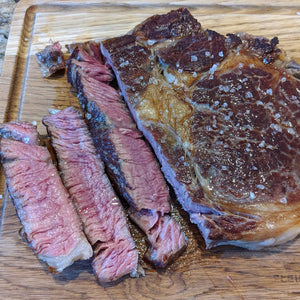 How's Your Carnivore Month Going?
January is World Carnivore Month! The ultimate goal of every New Year's Resolution is to change your life for the better. The challenge of Carnivore Month really delivers on that promise. Not only do you spend the first month of the year treating yourself to a healthy and delicious diet, but you can find support wherever you turn, knowing thousands of people are working on the same project as you are.
So, how is your first month on the Carnivore Diet going?
Carnivore Month is Going Great!
That's healthy and wonderful! Not only are we cheering you on, we have some encouragement for you! Check out our Carnivore, Meat, Fish, and Eggs tags on our Recipes Page for more meal options. Encourage others to keep on, and share tips with them. Above all else, continue enjoying the delicious and energizing rewards of the Carnivore Diet!
It's Not Going So Well
Hang in there! A dietary change can be a big adjustment, especially when you think about the things you're missing. So don't think about them! Instead think about the varied, healthy, and delicious possibilities of the Carnivore Diet.  We have some encouraging reading for you on our Blogs Page including Inexpensive Recipes for the Carnivore Diet  and Carnivore Diet Meal Plans: Six Dishes That Aren't Steak.
I'm Thinking Of Giving Up
Don't be hard on yourself, but don't give up either!  Remember that any habit, no matter how healthy or productive, takes awhile to establish.  Also, let us remind you that advances in culinary science can help you, such as our degree-precise Cinder Grill. In addition to the links provided above, you may find helpful reading in our articles about various meats "On the Cinder Grill", found among our Blog Posts.  These can help you make the most of the Carnivore Diet by maximizing your enjoyment.
I Haven't Tried It Yet
There's no time like the present! The Carnivore Diet is delicious, healthy, and even environmentally friendly. You'll find some basic information in our introduction, The Carnivore Diet and the Cinder Grill to help guide your further research.  Especially this month, many people are working on the same project, ready to help advise you and cheer you on.
No matter your relationship to the Carnivore Diet – old hand, newbie, or just curious – January is a great month for carnivores. Take advantage of the wealth of information and the abundant energy! Celebrate Carnivore Month!
Never Overcook Again
Try this on Cinder Grill Today