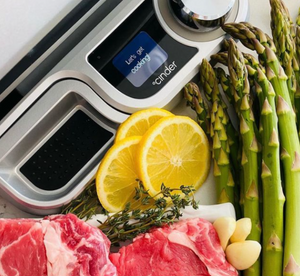 Memorial Day: The Start of Grilling Season
Memorial Day officially opens the Summer Grilling Season, which alone is reason to celebrate! However, what if the weather doesn't cooperate, or the grill got rusty in storage? We could keep listing possible disasters, but you get the idea. Well, with the Cinder Grill, the grilling season lasts year round, and can be celebrated wherever you like. Bring the start of the grilling season indoors with these new Cinder Grill recipes:
These five delicious dishes are just the tip of the iceberg when it comes to Cinder Grill recipes. Also, consider crafting your own dishes using the ideas, tips and tricks we lay out in our blog posts.  Celebrate grilling this Memorial Day, all summer, and all year long with the Cinder Grill!
Never Overcook Again
Try this on Cinder Grill Today