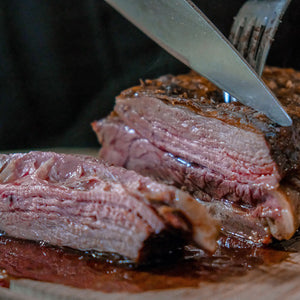 Nutritious Easy Meals to Make on the Cinder
These days, our fast-paced lives can interfere with making and eating nutritious meals. Indeed, amid all the noise and confusion, it can be difficult to determine just what goes into a nutritious meal. And then there's figuring out what the best cooking methods are...  Therefore, we turn to the Cinder Grill. The Cinder's sous vide method adds no fat and works without supervision for effortless cooking. In this blog post we've highlighted several of our one-dish easy meals to highlight how simple nutritious meals can be with the help of the Cinder Grill. 
What Is a Nutritious Meal?
According to medical authorities, a nutritious meal features these balanced aspects:
It is rich in vegetables and fruits.  Many authorities recommend 'half the plate'.

It includes whole grains. Whole grains are important for both fiber and nutrients.

It includes lean protein including lean dairy products. Protein provides longer term energy than carbohydrates, as well as building blocks to keep your body in good repair.
These aspects balance protein, fiber, minerals and vitamins, and carbohydrates. A little fat is good, but of course, a lot is not so great.
Effortless Cooking
The Cinder Grill makes it effortless to create a nutritious and easy meal. As mentioned before, the sous vide method requires no added fat. Also, it includes no added water which could wash away nutrients. Furthermore, with the help of the TempSense(R) algorithm, food never overcooks. Thus nutrients are preserved, not broken down by excess heat. In the ongoing initiative to eat healthily, the Cinder Grill is your faithful partner.
Seven Choices For an Easy Meal
Here are seven examples of nutritious and easy one-dish meals we've designed for the Cinder Grill, just for you.
This

Yellowfin Tuna Poke

is refreshing, full of vegetables, and features good fats from tuna and nuts. 
Fresh Sea Bass and tasty vegetables nestle together in a

delicious coconut curry

full of healthy fats. Did you know that many of the spices, such as turmeric, are quite nutritious?
Fish tacos

also make for effortless cooking, great flavor, and fun, especially with rich fresh guacamole. 
Toasted sandwiches

are a great quick option and can be filled with anything you like, such as beautiful heirloom tomatoes. 
Eggs are also high in protein and rich in nutrients, and

this recipe pairs them

with tasty seared asparagus. Replace the hollandaise with a drizzle of olive oil to improve the fat balance. 
Nutritious, effortless cooking is well within your reach. Let these recipes be your guide and inspiration as you create your own easy meal plans. The Cinder Grill stands ready to help with clean cooking methods and perfect results. 
Never Overcook Again
Try this on Cinder Grill Today