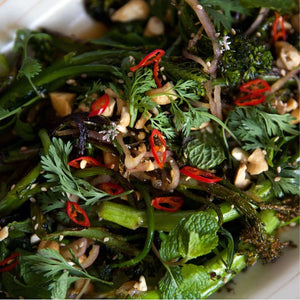 A Vegetarian's Guide to Sous Vide
Cooking to temperature isn't only for meat. Precise temperature control is just as important with vegetables, tofu, cheese, and eggs.  How often have we suffered through mushy veggies, tough eggs, and rubbery cheese? The pinpoint temperature control of sous vide prevents these mishaps, and the Cinder Grill is the most versatile and easiest way to use sous vide in cooking.
Preparing the Best Vegetables
Vegetables respond very well to controlled temperatures in cooking. Pectin, one of the main structural components of plants, is heat-sensitive. For example, holding a carrot at 180 F can preserve the pectin structure, resulting in tender yet toothsome results. Cooking the same carrot to 212F for too long can result in a texture that's leathery, mushy, or worst of all, both.  The single-degree precision of the Cinder Grill is the best recipe for perfectly cooked vegetables, especially when paired with the Cinder's quick and thorough sear. To see and taste the results, try our recipes for Roasted Brussels Sprouts or Shishito Peppers, among others. 
Cheese and Eggs on the Grill
Eggs and cheese, being protein-rich foods, also benefit from heat control. The Cinder Grill shines as the best way to grill delicate proteins.  The Cinder's moist and precise method of cooking prevents any overheating which could produce drying, toughness, or even burning. Check out our recipes for Crispy Fried Eggs (which uses a secret ingredient to achieve the perfect balance of crispy and tender), Grilled Halloumi, or the Ultimate Grilled Cheese.
The Wonders of Tofu
We can't forget the popular and tasty tofu. Common problems with tofu dishes are rubbery texture and blandness. The solutions are proper seasoning and heat control.  The Cinder Grill produces excellent tofu dishes, whether using the gentle heat of sous vide or the crispy browning of the sear setting.  Try our showstopping Sesame Crusted Tofu to impress guests or as a restaurant-quality treat for yourself. 
The sous vide method is useful for far more than just meat.  The Cinder Grill's method of sous vide without water baths is the best way to use an indoor grill. Its single-degree precision is the best way to prepare vegetables, cheese, eggs, tofu, and so much more.  Try grilled broccolini, parmesan crisps,  or even a vegetarian steak! The possibilities are endless with the Cinder Grill. 
Never Overcook Again
Try this on Cinder Grill Today