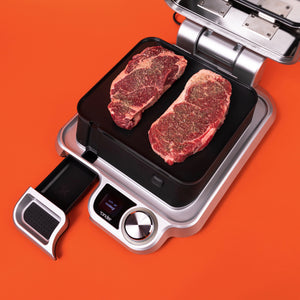 Celebrate Independence Day With The Cinder Grill🥩 🇺🇸
The Fourth of July, the USA's birthday celebration, is about two things above all: freedom and grilling. However, this year we are celebrating in smaller groups due to social distancing. It may not be practical to fire up the outdoor grill. To say nothing of bad weather, which can be unpredictable. However, with the Cinder Grill, you can guarantee yourself an independently delightful and delicious Independence Day! 
The Cinder Grill combines the best aspects of indoor grills and outdoor grills. It's convenient, electrically powered, and smokeless, and also features a professional-level searing function. With these features, the Cinder Grill can remove these worries from your Fourth of July celebration:
Weather interruptions -- the Cinder Grill can be used indoors regardless of the weather. It works just as well outside on a deck or porch in order to take advantage of lovely weather conditions.
Scheduling -- outdoor grills take 'as long as it takes' for their fire to catch, bloom, and burn down to coals. The Cinder Grill, however, cooks in a reliably predictable manner. A rule of thumb is a little more than a half hour of cooking per half pound of meat.
Smoke -- the Cinder Grill is entirely smokeless, unlike outdoor grills. It's also immune to fat-induced flareups, and instead has a drip tray to deal with excess fat. A few drops of a flavorful liquid smoke or a few dashes of smoked salt easily provide savory smoke flavor without the risks.
Wasted fuel -- instead of lighting a large fire in a large grill to cook a small amount of food, use your Cinder Grill to cook a steak or two. The Cinder will use only the electricity it needs.
Fire getting out of control -- whether from too much lighter fluid or too much dripping fat, fires can sometimes go wild. They seem almost like living things, trying to escape their proper environment to wreak havoc. With no flame to control, the Cinder Grill presents no such risk.
Best of all, you can cook your entire Independence Day meal on your Cinder Grill. Try an appetizer of Fig and Cheese Toast. Follow that with beautiful Elote Corn and a perfect Grass-Fed Beef for your main dishes. Some candidates for dessert include a Butterscotch Ganache Sandwich, personal Upside-Down Cakes with perfectly ripe donut peaches, a pre-prepared Cream & Crepe Cake, or all of the above! You're free to choose whatever you like. The Cinder Grill is here to help you make restaurant-quality dishes at home this Independence Day and every day.
Never Overcook Again
Try this on Cinder Grill Today