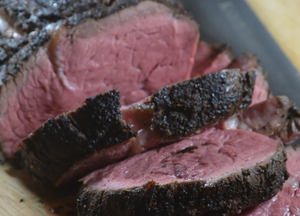 Meat Lovers' Roasts on the Cinder Grill
One question we're frequently asked about the Cinder Grill is if we will make it in multiple sizes. Right now we're more focused on how meat lovers can enjoy the flexibility of our current size. Our magic meat machine can cook anything from a single meal to a feast's centerpiece. Therefore, there's no better way to demonstrate that versatility than with a delicious, show-stopping roast that feeds a crowd. Furthermore, roasts are often considered tricky recipes, but with the Cinder Grill you'll cook like a pro every time. 
Tie Like a Pro
Before we talk about some of the recipes we've created to satisfy meat lovers, let's discuss how and why to tie a roast.  Our Michelin starred chef, John Crichtley, kindly wrote up an illustrated guide for us. Tying a roast results in a neat attractive package, but the effects are more than cosmetic. In fact, giving the roast an even shape results in even cooking all the way through. It also ensures neat portioning, so you can serve lovely slices like a pro rather than dripping hunks. Not every roast needs to be tied, but in general we do recommend it.
Some Roasts From The Magic Meat Machine
We've chosen these recipes to demonstrate the variety of impressive roasts you can make on your Cinder Grill. Every one of these will both please and feed several meat lovers. Also, these recipes, like all the entries on our Recipes page, will inspire you to adapt your own favorite recipes to our magic meat machine. 
Three More Roasts....
Meat Lovers' Delights
As you can see, roasts are a great way to maximize your Cinder Grill.  We have quite a few more recipes for roasts on our Recipes page. Furthermore you can use any of our recipes as a blueprint to modify your favorites for the Cinder Grill.  Use our magic meat machine to produce showstopping roasts and delight the meat lovers in your life, including yourself, like a pro! 
Never Overcook Again
Try this on Cinder Grill Today