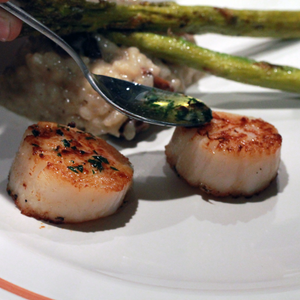 The Mediterranean Diet and the Cinder Grill
The Mediterranean Diet looks to the food ways followed around the Mediterranean basin for a very long time. Quite a few countries border the inland Mediterranean sea, each with its own range of regional cuisines. However, all of these cuisines share striking similarities in both ingredients and outcome. All are based on whole grains, abundant vegetables, olive oil, fish, cheese, and a moderate amount of red wine. Furthermore, all are linked to low levels of heart disease and longer lifespans than seen in Northern Europe and the US. 
The Cinder Grill makes cooking from home perfect every time. Thus it contributes to the success of any diet, such as the Mediterranean Diet. The Cinder's nonstick plates need only the barest film of oil or even none at all, enabling you to cook clean without added fats. Its single-degree precision guarantees tricky foods such as nuts and fish come out perfect every time. Best of all its versatility helps expand your culinary horizons as you explore the possibilities. You can't maintain a diet unless you enjoy what you're eating. Therefore by guaranteeing perfect meals and easy cleanup, the Cinder Grill makes cooking from home effortless and the Mediterranean Diet a success.
Here's a list of some typical staples of the Mediterranean Diet and how the Cinder Grill can help you maximize them:
Vegetables are the mainstay, including herbs. The flat Cinder plates are perfect for sauteing and searing. However, vegetables can also be cooked with the lid down for a toothsome texture.  Try this luscious

Roasted Summer Squash with Yogurt

 or this spectacular

Whole Roasted Acorn Squash

(replace butter with olive oil) from our recipe collection. 



Fruits are also a staple. Cooking fruits brings out their sweetness. The

Romaine Summer Salad

shows this well but it's a good practice for sweet dishes too. 



Whole grains are nutty, fiber-rich and satisfying. A quick and easy way to use them is to grind them in your blender and make flatbreads from the fresh flour. Any flatbread recipe you like can be prepared on the Cinder. Also, try our

Shrimp Salad With Bulgur

. 



Nuts toast beautifully on the Cinder Grill with no risk of burning, and add protein and healthy fats to any dish you can think of. Our beautiful

Roasted Beet Salad

is an excellent example. 


Olive oil is another staple of the Mediterranean Diet. Set your Cinder to 350 in order to saute or sear, and don't forget a finishing drizzle of raw olive oil on all your dishes! 



Fish, shellfish, and poultry are the best animal protein sources. With the Cinder Grill you'll never overcook these low-fat foods. Furthermore with nonstick plates you can cook clean without added fat. Try

Shrimp Ceviche with Melon and Basil

, or

Marinated Chicken Breast

. 



Dairy is the other main protein source, but don't overdo it! Roasted fruit partners well with Greek yogurt. Also, try

Grilled Halloumi and Eggplant

as a satisfying main course. 



Red meat should be reserved for small quantities and special occasions. Therefore, make it the best it can be. The Cinder Grill drains fat away and doesn't require extra. Also the healthy sear setting avoids carbonization and other dangers. Our

Recipes

page features many luscious meat dishes. Just remember to keep the portions reasonable. 
So pour your glass of red wine, set up your Cinder, and cook clean, delicious, satisfying mediterranean-style meals. We have many other suitable recipes for you to prepare and to build upon. The Cinder Grill is here to help you make the Mediterranean Diet, and all your cooking from home, a success.
Never Overcook Again
Try this on Cinder Grill Today