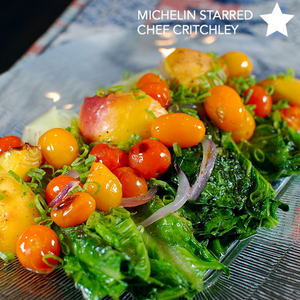 Seven Summer Recipes for the Cinder Grill
One of the benefits of the Cinder Grill is its precise heat control. It doesn't waste heat with a higher temperature than the goal. Also, it doesn't heat up its surroundings. This last quality is especially useful for summer cooking. These seven easy recipes highlight how the Cinder Grill provides bursting flavors and perfect home cooking, all without raising your temperature or your kitchen's. Every summer recipe was developed by Michelin starred chef John Critchley exclusively for Cinder Grill. 
 Heirloom Tomato & Mayo Sandwich
This grilled tomato & mayo sandwich is a perfect summer recipe. When the tomatoes are at sweet, savory, juicy perfection, showcase them in this delicious sandwich. The Cinder Grill is a versatile indoor griddle. It can toast both sides to golden deliciousness. Also, if you'd like to add bacon, you can crisp that on your Cinder Grill as well.
Chilled Shrimp Ceviche
If you've ever wanted to try ceviche without raw fish, this is the summer recipe for you. The Cinder Grill's pinpoint temperature control cooks the shrimp to succulent perfection. The sweet-tart-spicy melon garnish provides a refreshing counterpoint to the juicy shrimp. Enjoy this relaxing make-ahead dish on any hot summer night. 
Romaine Summer Salad
Summertime is the prime season for fresh produce. Celebrate the bounty with this summer recipe for a glorious salad. Adding a little heat mellows and enriches the textures. It also contributes delicious browned flavors. You might never have thought of toasting romaine before this salad, but you'll never forget it afterwards!
Elote Loco
Sweet corn is a summertime tradition. Sweet corn cooked on the Cinder Grill is convenient enough for every day. It's certainly much more manageable than in a huge pot of boiling water! Grilled sweet corn coated with a sharp, spicy mix of tangy cheese, smoky paprika, and zingy citrus makes for an everyday luxury you'll savor again and again. 
Grilled Zucchini With Yogurt
Summer brings a splendid abundance of zucchini and other summer squashes. This is an excellent way to use it up. Grilling the squash concentrates the mild flavors. Seasoned yogurt adds richness and protein. This recipe is nutritious, low in calories, and absolutely delicious. What could be better for handling Zucchini Season? 
Brown Sugar & Orange Ice Cream Cones
Summertime is Ice Cream time! Here's a lovely summer recipe for homemade ice cream cones to make things extra special. The richly flavored wafers feature deep brown muscovado sugar and fresh orange zest. Rolling one's own cones is kitchen fun at its best! However, these wafers can also be broken into large elegant pieces and stuck into a bowl of velvety ice cream for a crunchy counterpoint.
Crêpe Cake
This multilayered crepe cake is a showstopper. Who could resist this tall stack of delicate crepes layered with whipped cream and strawberries full of bursting flavors? It looks as difficult as it does delicious, but it's actually an easy summer recipe. Just stack tender crepes with the filling and refrigerate to set. Then present this magnificent dessert and bask in your guests' praise!
These tasty, easy summer recipes are just the beginning of the Cinder Grill's summertime possibilities.  Consider cooking ahead to chill dishes for later. Or cook with no preparation, just perfect results guaranteed. Either way, let these recipes inspire you to use your Cinder Grill this summer! Enjoy cool and easy cooking from home. 
Never Overcook Again
Try this on Cinder Grill Today