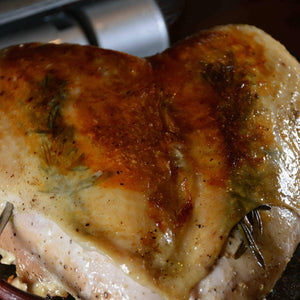 Turkey, Olive Oil, & the Cinder Grill: Five Thanksgiving Menus
This Thanksgiving, while we're just as thankful as ever, our celebrations have shifted in size and location. Based around our recipe for Dry Brined Turkey Breast we've drawn up five easy menus for smaller celebrations.  All of them feature sauces based on rich, nutritious, and healthy True Fields Mediterranean Extra Virgin Olive Oil. But first...
A Quick Reminder on Where the Olive Oil goes.
Brines, marinades, and sauces are all different. Brining uses salt and water to modify the proteins in the food. This enables them to hold onto more juiciness and flavor.  Oils unfortunately interfere with this process.  Marinades contain acid, and often oils to help carry flavors. While the basic recipe doesn't include one, you could apply a marinade to the Dry Brined Turkey Breast if you like. Sauces, meanwhile, are generally applied after cooking to enhance the food. Many of the flavorful and healthy compounds in olive oil are damaged by heat. Therefore it's best used in uncooked and quickly cooked sauces.
Five Easy Thanksgiving Dinners
Of course, center these around your Dry Roasted Turkey Breast. This centerpiece is reliable and flawless off the Cinder Grill.
Turkey, Thanksgiving, and Beyond
We hope that these five sample menus not only keep Thanksgiving effortless but inspire other celebratory meals throughout the holiday season.  Whatever you choose to cook, we probably have a Recipe for it, or ideas on how to adapt it to your Cinder. Above all else, have a happy holiday season with your Cinder Grill!
Never Overcook Again
Try this on Cinder Grill Today