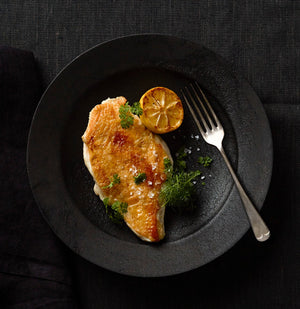 The New Dining Trend: Cooking At Home
Cooking at home is the new trend. While we shelter in place, and it costs less to dine at home anyway, why not take advantage of the situation? We can enjoy inexpensive entertaining, with food chosen and prepared exactly how we want it, in the comfort of our own homes. Furthermore, the Cinder Grill is your personal chef. It knows how long to grill steak or anything else you desire, providing restaurant-quality food that's perfect every time. Previously we considered how to bring the Steakhouse home. Now let's expand the idea to a varied set of menus. 
The Essentials of Dining
What really makes a dining experience special? Comfortable surroundings, lovely company, and delicious food. We've made our homes even more comfortable recently while spending so much time with them. We've cultivated wonderful company in our families, friends, and living companions. Now all we need is the food to complete our inexpensive entertaining. The Cinder Grill makes cooking at home easy and delicious, perfect every time with a minimum of mess.
How Long to Grill Steak and Other Dishes
One issue home cooks often encounter is figuring out how long to cook things. This is especially true of and difficult with meat, which overcooks easily. However the Cinder Grill always knows how long to grill steak, chicken, fish, and even vegetables. Because it continuously monitors the internal temperature of the food it never ever overcooks. Pair this with its high-temperature sear, for beautiful savory crusts, and you have all you need for restaurant-quality cooking at home.
Cooking at Home: Three Sample Menus
To show how easy and inexpensive entertaining at home can be, we've laid out three menus, all cooked mostly if not entirely on the Cinder Grill. Furthermore, all include dishes and elements that can be done ahead.
The first features Cornish Game Hens and Grilled Broccolini. These elegant dishes can be served hot, or cool in the sweltering heat of summertime. Add Fig and Cheese Toasts for an appetizer and a basket of good bread alongside. Then finish by making your own Homemade Ice Cream Cones, which will make any ice cream extra special.
The second celebrates spicy seafood. Start with Shrimp Ceviche, then enjoy Fish Tacos with all the trimmings. Finally round out the meal with rich Butterscotch Ganache Sandwiches. Both the ceviche and the ganache are make-ahead items. 
The third is a satisfying vegetarian feast. Follow a lush Baked Brie with Eggplant and Halloumi Flatbreads. Afterwards, bring out a stunning make-ahead Crepe Cake for dessert. For this it's best to cook the eggplant through then set it aside while you bake the brie. After serving the brie sear the eggplant and then the rich halloumi, and dinner is served!
Feel free to look through our Recipes page and tags. We've compiled many delicious recipes designed for the Cinder Grill, many by Michelin-starred chef John Critchley. You'll also find inspiration for inexpensive entertaining and cooking at home. With the Cinder, the results will be perfect every time.
Never Overcook Again
Try this on Cinder Grill Today