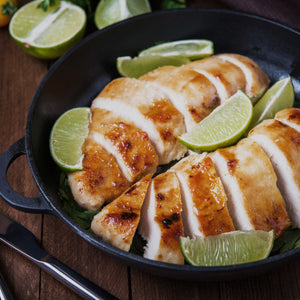 Easy Appetizer Ideas For The Cinder Grill
Appetizers make any dinner special. They turn a weeknight meal into a celebration, and are a must for easy entertaining. Not only do they sustain guests while the main dishes finish up, but they also entertain with their visual appeal and tastiness. The versatile Cinder Grill prepares appetizers perfectly. Also, our Recipes page features many easy appetizer ideas. We even have recipes from many cuisines, such as Japanese and Mexican appetizers. However, the Cinder's usefulness goes far beyond. Because of the Cinder Grill's single-degree precision, it can warm pre-prepared appetizers to perfect serving temperature. Furthermore it can hold them, and even act as a serving centerpiece. The Cinder Grill makes appetizers even more accessible and easy to prepare. 
Easy Appetizer Ideas
As mentioned above our Recipes page includes an appetizers section. There we list easy entertaining dishes such as Buttery Potatoes With Smoked Salmon .  However, easy appetizer ideas exist far beyond this specific collection. Almost any dish suitable for eating in small quantities, out of hand or otherwise easily, can become an appetizer. For example, how about the WHole30(™) Breakfast Egg? This  modified Spanish tortilla is tasty cubed and served at room temperature. Or try elegant grilled asparagus with our simplified hollandaise sauce for dipping. In summary, let your imagination run free as you look through our recipe listings. Easy appetizer ideas are everywhere!
 
Cook Ahead of Time
Pre-prepared appetizers are a busy cook's best friends. They keep guests content while the main meal is finishing up. Furthermore they save the day when unexpected company arrives, and always make for easy entertaining. An unexpected benefit of the Cinder Grill's cooking method, just to temperature, is that food chills more quickly to fridge temp. Also, the Cinder's precision guarantees dishes won't overcook while you're warming them back up. For instance, our tasty chicken wings lend themselves to prep ahead of time, then a quick warm and sear, all on the Cinder Grill. But other easy appetizer ideas spring to mind -- how about saucy ribs, or flatbreads with varied toppings? Nearly anything can be prepared ahead and rewarmed precisely on the Cinder Grill! 
Cuisine Spotlight: Mexican Appetizers
Mexican food features a fresh, spicy flavor palette, and Mexican appetizers are no exception. Furthermore they span a far wider range than just nachos and quesadillas. (Though of course those favorites can be made on the Cinder). For example, we feature cool shrimp ceviche among our recipe listings. If you've ever wanted to try ceviche but worried about raw fish, this is the dish for you. The Cinder's gentle cooking makes the shrimp safe to eat but preserves their fresh flavor for the ceviche. Other dishes we list, popular in both Central America and Mexico, are rich elote loco ('crazy corn') and crisp shrimp pupusas. Whatever the recipe your favorite Mexican appetizers will benefit from the precision of the Cinder Grill. 
Easy Entertaining With The Cinder Grill
One versatile idea for easy entertaining is a buffet meal composed of appetizers.  Most of the components lend themselves to prep ahead of time. Try parmesan fricos for a kale caesar salad or to serve on their own. Also consider beautiful make-ahead Fig and Cheese Toasts with caramelized onions. Closer to serving time you can bake up a lovely Brie in Pastry With Pepper Jam, then rewarm and sear the chicken wings. Finally, right when your guests are ready, quickly sear up a pile of fresh green shishito peppers and set out a tray of shrimp ceviche in small cups. This spread ranges across temperatures, ingredients, and cuisines for a delicious and intriguing variety.
However, all the easy appetizer ideas listed above are just suggestions. Swap in any others to create your own menu, or choose just one to serve before a main course. Set up contrasts with fresh Mexican appetizers before a rich lasagna, or establish a theme with crisp pork belly  and then pork loin with roasted vegetables. Whatever you choose, enjoy your perfectly cooked appetizers from your Cinder Grill!  
Never Overcook Again
Try this on Cinder Grill Today